Township cancels meeting for new fire department millage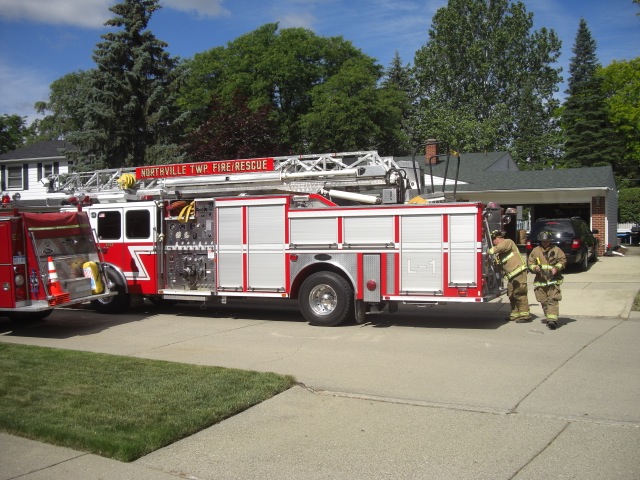 Northville Township Fire Department was required to provide mutual aid, firefighters and their ladder truck to the Plymouth Township Fire Department many times since this medical emergency in 2012. The Plymouth Township Fire Department does not own a ladder truck.
Jan. 6, 2014  PLYMOUTH VOICE.
Plymouth Township officials have cancelled a Special Board of Trustees meeting scheduled to call for support for the fire department with proposed funding of new fire department vehicles and other firefighter gear, radios, and patient lifesaving equipment.
The special meeting, previously described as a "study session," and posted to the township's website this week listed equipment needed to replace the fire department's aged and failing fire-apparatus. The Board of Trustee meeting was scheduled for Tuesday at 6:00 p.m. at Township Hall.
The presentation by Plymouth Township Supervisor Richard Reaume and Fire Captain Dan Phillips contained a formal resolution to approve a $1.6 million expenditure supported by a tax increase.
According to the meeting packet, Reaume was to roll out two options for a dedicated millage that would raise an estimated $1.6 million. His options included a one-time, one-year 1.0 mill tax or a combination of a lower millage over an unspecified number of years. Other expenditures were tacked to his plan for discussion with the trustees, like a concrete repair job for one of the two remaining open fire stations.
In a July 19 private letter to Reaume, obtained through the Freedom of Information Act, Fire Chief Mark Wendel outlined the dire condition of much of the current equipment used by the fire department. He expressed his concern for the safety of the firefighters and the public in light of the outdated equipment currently in use.
In October, a verbal presentation by Wendel to the Plymouth Township Board of Trustees was met with sarcasm, insults, misinformation and discourtesy. It was an ugly, unpleasant and hostile environment in which Wendel attempted to explain the danger township residents and firefighters face in light of the board approved "restructuring" of the fire department.
Wendel brought reports, research and corroborating documents to support his presentation, which should have taken about 20 minutes or so. It stretched on to just over 90 minutes because of the constant sarcastic interruptions, ridicule, misstatements of fact and even a few legitimate questions from the board members. At one point, Township Treasurer Ron Edwards could be seen actually laughing at Wendel's attempts to present his report, one trustees had been requesting for months.
Last week Honeywell presented a gift of fire department gear to the township department in a ceremony at the Haggerty Road station. The company, based in Plymouth, provided $8,000 worth of boots and gloves, enough to outfit the 12 remaining full-time firefighters in the department as part of the company Hometown Solutions program.
Reaume, who has had an adversarial relationship with the township fire department since downsizing staffing by 60 percent and implementing a 50 percent reduction in firefighters' salaries through a retirement program last year, thanked Honeywell.
Reaume's request for board action on Tuesday made no mention of increasing staffing levels, now at an all time low and considered by many surrounding area public safety officials as unsafe.
No new date has been announced for the trustee vote on the proposed dedicated millage cancelled late Monday.
|News Plymouth Michigan