Tombstone dedication set for Armed Forces Day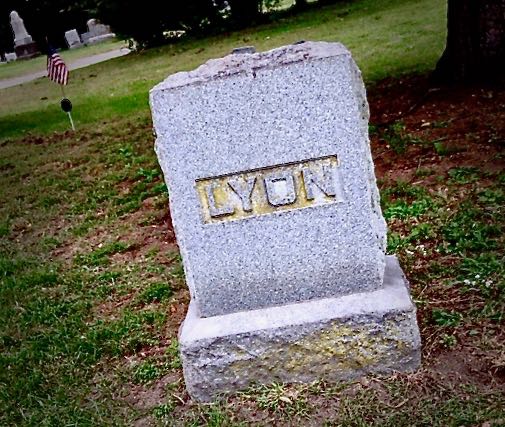 May 12, 2017  PLYMOUTH VOICE.
Plymouth Michigan News
The Plymouth Historical Museum is hosting a tombstone dedication ceremony for Civil War veteran Luther Lyon in Riverside Cemetery at 11 a.m. on Armed Forces Day, Saturday, May 20.
Museum personnel worked with representatives from the City of Plymouth and the Veteran's Administration during the past few months to obtain and install the replacement veteran's marker for Lyon.
"During research for the 2016 Plymouth Ghosts Cemetery Walk, we discovered that his original veteran's marker was broken in half," said Liz Kerstens, museum executive director. "So we partnered with the City of Plymouth and contacted proper governmental agencies to acquire a replacement.
"We are reaching out to Lyon's descendants with invitations to attend but so far we are still awaiting replies," Kerstens said.
Members of the Sons of Union Veterans are expected to be in attendance and other veterans' organizations have been invited.
"We are delighted to be able to help, even in this small way, to honor this Plymouth resident for his service," Kerstens said.
This is the second time that the museum has been instrumental in working with the VA to get a marker for a Civil War veteran. The first was in 2011 for Albert Nelson Stevens, whose burial location had no marker.
Rick Danes, a member of the Sons of Union Veterans and a Museum volunteer, portrayed Luther Lyon during the 2016 Plymouth Ghosts Cemetery Walk, sharing details about his life in Plymouth in the late 1800s.
Lyon was born in Plymouth in 1842 and eventually served in a local military regiment, the 1st Michigan Lancers. The Lancers were trained in the Napoleonic warfare method of charging and spearing the enemy from a horse. Fortunately they were disbanded without ever seeing combat.
In January 1864, Lyon and his brother, Alfred, enlisted in Company F, 16th Michigan Infantry. While the two men missed Gettysburg and Antietam, they fought with General Robert E. Lee's army all the way through Virginia to Petersburg, and then marched to Washington for the Grand Review.
Lyon returned to Nankin Township (now Westland), married Mary Phillips and lived on his farm there until he died in 1908.
The dedication ceremony is open to the public. Riverside Cemetery is located directly behind the 35th District Courthouse at 660 Plymouth Road in Plymouth.
The Plymouth Historical Museum is a privately-funded membership organization dedicated to preserving, teaching, and presenting history through the operation and support of the Plymouth Historical Museum.
The museum is located in downtown Plymouth at 155 S. Main St. Hours of operation are 1-4 p.m. Wednesday, Friday, Saturday and Sunday. Admission is $5 for adults and $2 for children. Visit www.plymouthhistory.org for events and exhibit information.
Plymouth Voice.