Caboose arrives at Plymouth museum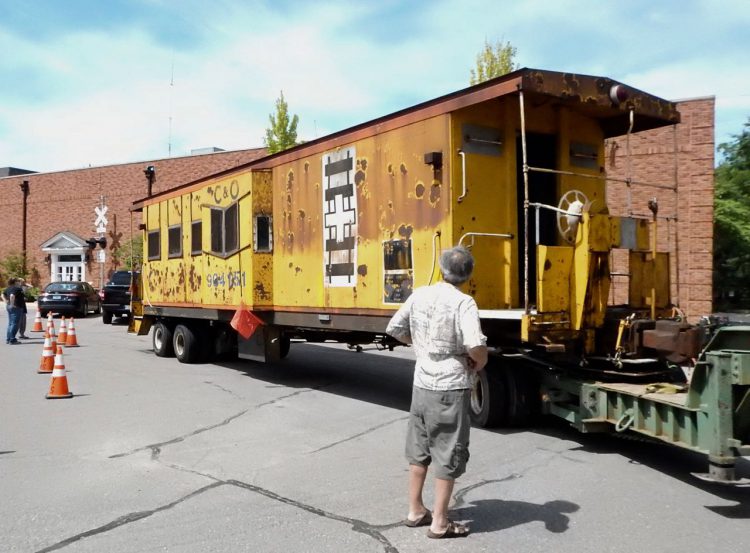 Jul. 5, 2019  PLYMOUTH EAGLE.
Plymouth Michigan News
Right on track
The long-awaited arrival of the Chesapeake and Ohio Railroad caboose at the Plymouth Historical Museum took place last weekend as the huge car was delivered by flat-bed truck.
On hand to welcome the new attraction was Museum Curator Liz Kerstens along with a group of supporters and museum volunteers.
The well-used and out-of-service caboose was donated to the museum which had to pay the cost of the truck freight from the CSX Rougemere Train Yard in Detroit, the installation costs of the unit and the tracks at the rear of the museum, where the attraction will be displayed.
The original plan was to exhibit the caboose in front of the museum building, but city ordinances proved prohibitive forcing museum officials to devise the alternate location in the rear of the building. Museum officials were able to win a zoning variance from the city to have the tracks installed at the rear of the building.
The caboose, which is a rusted working yard unit, needs lots of work, inside and out but Kerstens said she is confident the museum can generate the funding necessary for the restoration and repair. She said one of her first efforts would be the sale of brick pavers.
When complete, the caboose will be available for observation and tours, appropriately in "a town built on the railroad industry," Kerstens said. She added that she doesn't have an exact timetable for the project, "but we're planning on it," she said.
Plymouth Voice.
Photo: © Don Howard / Associated Newspapers