Tipping Point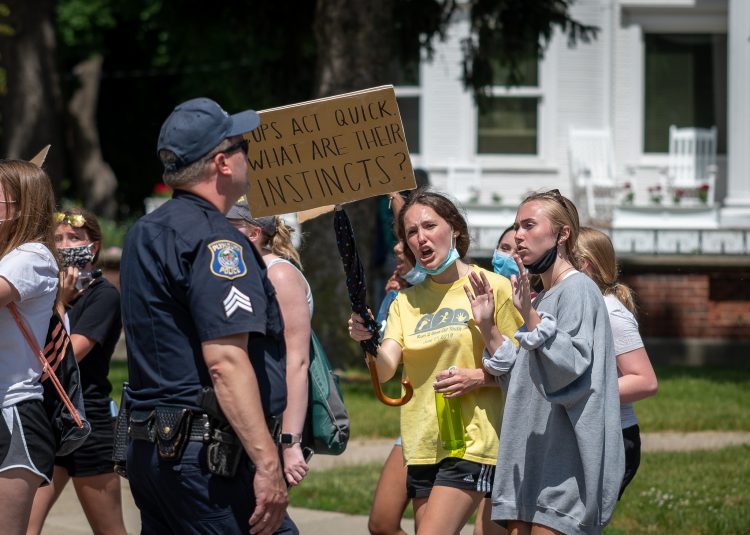 Jun. 22, 2020  PLYMOUTH VOICE.
Plymouth Michigan News
Op-Ed
by Kyle S. Reyes
While you were fighting over who among you was more "woke" and which company to boycott … we lost our country.
While you were arguing with coworkers over who would leave the country first if Trump/Biden were elected, the "American Dream" perished.
Don't believe me? Then perhaps ALL is lost. And I can prove it all to you through the eyes of a child.
The screens around our house in the past couple of weeks stand in stark contrast to what's in front of them.
The television … the laptops … the iPads … the cell phones … filled with images of the riots.  The violence.  The hatred.
Just a few months ago, when everyone was working from home – or unemployed – signs were put up around the community thanking police.  People cheered and put out Tweets and Facebook images of first responders doing "birthday parades" for little kids.
Now, angry Americans are taking over police departments, shooting cops, pelting them with bricks and bottles of urine and demanding that we abolish them.  The images are on certain channels – others ensure you just see the "peaceful protestors".
Broadcast on the same TV stations are the sounds of tone-deaf leaders. Of anger. Of hatred. Of hurt. Of fear.  Of race-baiting, dividing rhetoric and alienation.
In front of those screens run our little daughters.
They are the greatest blessings a young family can have.  Filled with innocence, love, joy and our hopes for the future.
What brought a lull in that media noise?
Hearing our pastor give a sermon.
He usually preaches about love. Faith. Hope. But there was a different dynamic in this message.
There was a different energy.
This time, he talked about the end of times.
He's far from being an alarmist. Just the opposite. But this particular service, he spoke deeply and heavily about being prepared. "For we know not the hour … "
He wasn't trying to frighten people. But he also understood that he couldn't be tone-deaf to the deep concerns of his flock.
It's hard not to be afraid. It's hard not to have an underlying anxiety. It's hard not to wonder and pray over whether your children will have the same opportunities you did.
Growing up, I paid close attention in history class. And I've always felt a very deep sense of patriotism. I've always felt great respect for my country and believed that if, God forbid, we ever faced World War III, America would once again triumph.
Perhaps my fear, and the anxiety of so many others, is that we were wrong.
We were wrong because of one simple line that I believe may have been written wrong. It should have read, "One Nation, Divisible After All."
Have we ever faced a time when our country was so polarized? Have we ever faced enemies so dangerous? Have we ever been on such a precipice that a frightening and painful energy radiated through each of us, tying us together in some disturbing, unifying, powerful and yet simultaneously divisive way?
I'm angered to see that we live in a country where we have gone soft. We've become hypocrites, and we've become pansies.
We forget that our grandfathers stormed beaches to protect freedom. Instead, we demand that the freedom now come in the form of a shelter from hearing words we don't like.
Our friends and family alienate us because of who we vote for.
We try and put companies out of business because how DARE they not support the Marxist organization Black Lives Matter.
We doxx people and put their families in danger because they dare to support law enforcement.
We don't question it when 'leaders' tell us to stay away from church.  Stay away from family.  Stay away from friends.  Wear a mask.  Don't worry about not having a job.  And we don't bat an eye as the country rapidly marches – or rather sprints – towards the socialism that's the destruction of a nation.
We give out trophies to kids who come in 8th place. Eighth freaking place.  And then we let them take over part of an entire city – Seattle – and play house, allowing rapes and murders to happen in the city while police are kept out.
We dig up the graves of people who have been dead for a hundred-plus years because they had something to do with the Confederate flag, and that offends someone NOW.  Then we destroy statues and give "get out of jail free" passes to the people who did it.  LITERALLY get out of jail free passes.  We have celebrities and politicians starting funds to bail criminals out of prison.
We allow politicians to hijack the country and spend our tax dollars chasing their personal agenda of impeaching a President simply because they don't like him.  Then we have the party that's supposedly the same as the President who sit around silently while the country burns. It seems as if both parties forgot what they were supposed to be doing and whom they are supposed to be representing.
We pick sides and parties and teams and defend them to the ends of the Earth, ignoring the facts, pointing the fingers and hoping someone else will cover the cost of our skyrocketing and borderline pointless health insurance.
We talk about the number of homeless vets who we have to feed and clothe and house when it's convenient for us to leverage them like pawns in a game – yet tomorrow, so many will forget to feed and clothe and house them.
We ignore the simple facts about our dangerously open borders and the lack of a vetting process for refugees, then we stand in horror as ISIS attacks and we ask our politicians how they could have let this happen. And then, of course, we put a fast lane in for more to cross the border.
We put in place more gun laws to prevent the bad guys from doing bad things. Because for some reason, we believe that bad guys give a damn about laws and that giving them an open shooting range on a military base or school campus will somehow protect our citizens. But then we completely ignore the massive problem of mental health in this country. We're more worried about the tool than we are the person.
Hell – not only do we ignore the problem of mental health – we double down on it but crashing our economy, putting millions out of work and then confine them to their homes.
We cry out that police are our enemies … and then we beg them to protect us from the likes of ISIS.
We are talking about DEFUNDING police while telling them that they do a lousy job training.  Because the solution to that is making sure they have less money, right?
We have a massive audience talking about ABOLISHING police.
Let that sink in.
We celebrate court rulings with rainbow flags that speak volumes about how far we've come and how inclusive we are as Americans … then we tell our neighbors to remove their American flags and stop saying "Merry Christmas" and "Happy Hanukkah" because it offends us.
We send billions of dollars overseas to help the homeless in impoverished and war-torn nations while we cut the funding for our own food banks and homeless programs.
We get into fistfights about "under-inflated balls" while gorging ourselves on beer and wings at football games … while millions of Americans wonder how they're going to pay their mortgage and put food on the table for their families.
We fight tooth and nail over whether someone dying of stage four pancreatic cancer should be allowed to use medical marijuana while drugs like heroin are running rampant in our schools.
Schools that apparently kids will have to wear masks in, if they ever reopen.
We teach kids that there should be no boys section or girls section at the store, but our kids notice that we won't sit down with our neighbor for a beer because they have a different skin color and we're too busy fighting over what is and isn't racism.
We hold massive rallies demanding $15/hour for flipping burgers … but we sit quietly on the sidelines when our men and women protecting our country who make $11/hour aren't getting paid because Congress is debating their funding.
We're told if you go to a protest over the government shutting down your business, you'll be arrested because it's a health threat.  We're told if you go to a Trump rally, you don't care about making people sick.  We're told if you go to a violent riot and torch buildings, you're a social justice warrior.
We're terribly focused on what matters to us as individuals. Marriage. Cell phones. Birth control. On and on and on. We're so worried about what matters to "me" that we forgot that in order for us to have a "me" … we have to first have an "us." A safe "us." A unified "us." An "us" that can at least find some kind of middle ground.
Tomorrow is a new day. So tonight, before bed, we pray … just a little harder, perhaps, than we've prayed before.
We put our daughters to sleep and shut off the television. The internet. The phones. The iPads. All screens but the black and white monitor where we can see nothing but innocence.
And for a moment, just one fleeting, precious moment, we're once again one nation, under God, indivisible, with liberty and justice for all.
Kyle S. Reyes is the National Spokesman for Law Enforcement Today, a pro-law enforcement advocacy organization administered and owned by law enforcement officers with headquarters in Boca Raton, Florida. Mr. Reyes also serves as President and CEO of the Connecticut marketing strategy group, Silent Partner Marketing.
This essay expresses the opinion of an author not affiliated with this publication or its editorial board.
Plymouth Voice.