Teen and boyfriend to face trial in murder plot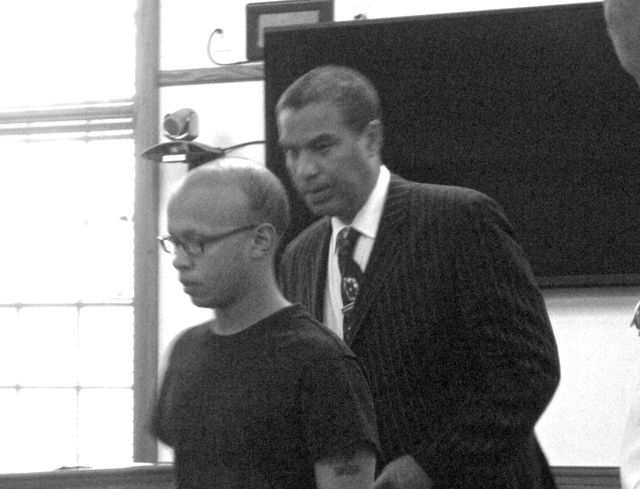 Defense Attorney Wright W. Blake with 23-year old Michael Rivera in Plymouth's 35th District Court. (Photo: Don Howard, Associated Newspapers of Michigan)
Feb. 14, 2014  PLYMOUTH EAGLE.
Plymouth Michigan News
"They knew what was going on. Forethought was going into this."
Judge Mike Gerou of the 35th District Court in Plymouth has ordered the couple accused of attempting to murder all four members of the 15-year-old girl's family to stand trial on seven felony counts each.
Gerou heard evidence in the case last Thursday and reviewed several text messages sent the night of the attempted murder purported to be between 15-year-old Roksana Sikorski and her 23-year-old boyfriend Michael A. Rivera.
"They knew what was going on. Forethought was going into this." Gerou said when he sent the two to Wayne Country Circuit Court to face charges. They will each be arraigned Feb. 12. During an earlier hearing, both the defense attorney for Sikorski, Leslie Posner, and Wayne County Assistant Prosecutor Jennifer Tink, accepted the findings of a psychological examination of the girl which determined she is mentally fit to stand trial.
Wright W. Blake, the attorney for Rivera, said that the testimony at the hearing was enough evidence to send the pair to trial.
He said, in a later interview that the defense claim that Sikorski felt threatened by his client was "absolutely ridiculous."
During the hearing, Sikorski's 11-year-old sister and 13-year- old brother each testified regarding the attacks on the night of Oct. 17. The 11-year-old said that she woke up to find Roksana pressing a sharp knife to her throat. "She said, 'I love you,' and she kissed me and then she left the room," the girl said.
The 13-year-old boy, still recovering from the attack, testified via a video link. He told the court that he woke up to find his sister going through the dresser in his room.
"She sliced my neck," he said. He testified that he tried to flee to an adjoining bathroom and that his sister first cut him as he was at the bathroom door.
"She cut me one time and when I tried to shut the (bathroom) door, she cut me twice," he said. He said the weapon was a very sharp fish knife usually kept in a drawer wrapped in paper towels. He said he was able to force the door closed, thwarting the attack.
Plymouth Township Police Det. Brian Rupard also testified during the hearing. He said that texts between Sikorski and Rivera from 12:09 through 12:23 a.m. included a diagram of the neck and instructions to make sure the victims stopped breathing.
The brother's screams awoke the family who immediately called police. Sikorski and Rivera were arrested at his Detroit home that morning, only hours after the attempts on the two children.
Sikorski is being tried as an adult, something her parents have protested, claiming she was a victim of Rivera. They also claim to have filed sexual predator charges against him in attempts to break up the relationship, something prosecutors allege may have provided a motive.
Both are being held without bond.
 Plymouth Voice.