Suit against township treasurer dismissed by judge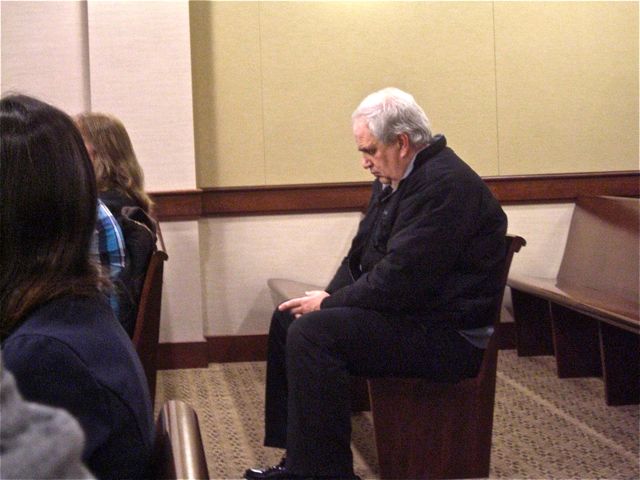 Plymouth Township Treasurer Ron Edwards waits for township attorney Tim Cronin in court last week.
Jan. 2, 2014  PLYMOUTH EAGLE.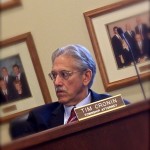 A court case seeking the return of a $559 late fee on a water bill from Plymouth Township Treasurer Ron Edwards was dismissed by 16th District Court Judge Sean Kavanagh on a legal technicality last week.
The case was transferred to the Livonia court by the state after all three 35th District Court judges, Ron Lowe, James Plakas and Michael Gerou, recused themselves based on Edwards' official elected capacity in the township.
Edwards, as township treasurer, is responsible for collection of residential and commercial water bills. Last August, he was served notice to appear in the 35th District Court in response to a suit filed by a township businessman claiming Edwards reneged on a signed payment agreement for water use.
Raymont Klimas, 61, owner of Lakeshore Tire and Auto Repair claimed in his suit that Edwards, at one time a regular customer at his repair shop and car wash, rescinded a signed agreement for a payment plan for his water bill, levied the bill onto his personal property taxes and tacked on a $559 delinquency fee.
Klimas said he was surprised when he received his tax bill last January and discovered the penalty. He said he wrote to Edwards to remind him of the written payment agreement dating back to October 2012. Klimas said he then called Edwards' office several times and left messages but Edwards did not return his calls.
On May 7, Klimas filed an affidavit and claim in the Plymouth District Court to recover the amount of the delinquency fee he thought to be unjust and Edwards was served on May 15.
By the end of that month, Plymouth Township attorney Timothy Cronin filed a motion to have the hearing go before a district court judge to allow Edwards legal representation in the matter. According the court clerk, Edwards wanted the township-paid attorney to argue on his behalf.
Klimas, who arrived at court early and represented himself at the settlement conference, said he had to leave his business and appear in court eight times before the hearing last week. Edwards and the court waited 50 minutes for Cronin to arrive before proceeding.
Kavanagh dismissed the case after Cronin claimed Klimas didn't formally respond to an Order to Dismiss submitted to the court. He was unable to produce the Proof of Service that supposedly went to Klimas for his response.
"A treasurer is not obligated by law to give anyone a payment plan, that's a courtesy." Kavanagh said.
"I could have paid that water bill, but it was the penalty that got me," Klimas said.
|News Plymouth Michigan