Student's Eagle Scout project is 'overwhelming' success in Plymouth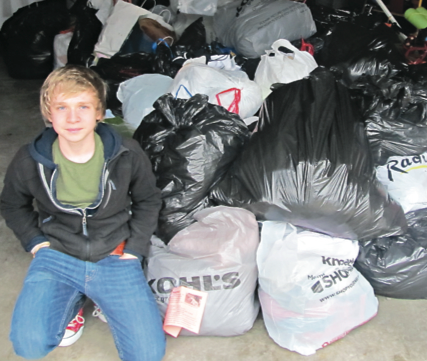 Jan. 16, 2013  PLYMOUTH EAGLE.
Ben Henderson is learning what success looks like.
In his case, it looks like a garage crammed full of huge bags of men's winter clothing donated by the community to help with his Eagle Scout project.
Ben's mother, Melissa, said the contributions have reached the point where they should be sent directly to the Open Door Shelter at the Fort Street Presbyterian Church rather than the Henderson's Plymouth garage.
Ben, however, isn't so sure. He said that his family formerly attended the Fort Street church and that is where he became aware of the Open Door organization that helps Detroit homeless. When he was deciding on a project for his Eagle Scout badge, he thought collecting warm winter clothing for the group would be a worthy cause. Evidently, the Plymouth community agreed with him and the city agreed to install a temporary donation box in the lobby of city hall where donations were being accepted 24-hours a day.
Henderson, 15, is a member of Troop 1537 which meets at First  United Methodist Church in Plymouth. Now a freshman at Plymouth High School, he's been in scouting, he said, since he was in second grade and enjoys the activity. The Eagle Scout collection process has been ongoing for several months, he said, and the results have been a bit overwhelming.
"We're going to have to rent a U- Haul," he said of the collected item in the family garage.
Melissa Henderson suggested that anyone wishing to contribute to the cause, call the Open Door organization directly at (734) 455-4227.