State files pollution lawsuit against landfill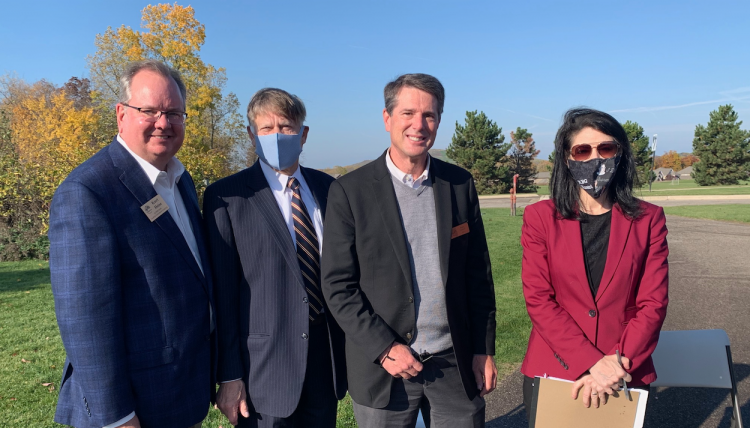 Oct. 29, 2020  PLYMOUTH EAGLE.
Plymouth Michigan News
Nix delivers on his promise to help residents
Attorney General Dana Nessel, on behalf of the Michigan Department of Environment, Great Lakes, and Energy (EGLE), filed a civil lawsuit last Friday claiming the operator of the Arbor Hills Landfill in Salem Township is failing to comply with state and federal regulations andregulations endangering the public health, safety and welfare.
Nessel and EGLE are seeking injunctive relief in Ingham County 30th Circuit Court to require Advanced Disposal Services Arbor Hills Landfill Inc. to operate the landfill in compliance with state and federal law for air quality and solid waste management.
"The operator of the Arbor Hills Landfill has continually demonstrated a blatant disregard for the serious concerns raised by community members and the state," Nessel said. "This site has been a nuisance for years and the potential threat to the health of nearby residents is significant. At this juncture, legal action is clearly a necessity and my office will support EGLE's enforcement efforts so that our residents' health and our natural resources are not subjected to the hazardous pollution created by this landfill."
The suit alleges that Advanced Disposal Services has consistently failed to install an adequate collection and control system to capture gas generated from both active and non-active areas of the landfill and failed to address leachate issues at its landfill. The operator indicated it would fix these problems but has failed to act.
Leachate is the liquid that gathers along the bottom double-liner of a landfill and can include liquid from the waste itself, rainwater and other outside sources. If not properly managed and removed, it can build up and potentially contaminate groundwater and other water resources.
"Our goal is to ensure Arbor Hills Landfill is not a nuisance to neighbors, and that the facility operates safely in compliance with state and federal laws for air quality and waste management," said EGLE Director Liesl Clark.
Northville Township Supervisor Robert Nix was gratified, he said, by the legal action.
"For over five years, Northville Township residents have been exposed to noxious and offensive odors from the Arbor Hills landfill. This lawsuit is the most effective way to eliminate the odor nuisance caused by the landfill. A special thanks to our coalition partners; The Conservancy Initiative, the City of Northville, Northville School Board, Plymouth Township, Sen. Dayna Polehanki and State Rep. Matt Koleszar for their continued support in our battle with the landfill and our ongoing effort to stop the expansion of this landfill. I also want to thank and recognize the hours and hours that our township team of Clerk Marjorie Banner, Treasurer Fred Shadko, Trustee Symantha Heath and Trustee Christopher Roosen have spent working on this issue with me," Nix said.
"There were 30 violations issued by EGLE to Advance over the last five years. In December of 2018 I requested the EGLE commence enforcement actions. After EGLE's enforcement actions failed and was not able to negotiate a consent order with ADS I said it was time to take action. As a result, Northville Township was joined by Brian Turnbull, mayor of the City of Northville and Kurt Heise, supervisor of Plymouth Township in requesting Attorney General Nessel to file an enforcement lawsuit against ADS."
Koleszar and Polehanki, whose districts include the Arbor Hills Landfill, have also been fielding resident calls about the site.
"This progress is due to the tireless work of advocates in our community," said Koleszar. "Our friends and neighbors stood up to say corporate polluters who willingly contaminate Michigan's air, water and land for the sake of profit must be held accountable – and I stand with you. I want to thank the Attorney General for joining us in this fight to protect our home."
Koleszar was critical of those he characterized as attempting to use the situation as a political gambit.
"Sadly, a lot of people in Western Wayne County are taking credit for yesterday's lawsuit; ironically, it's the very same people who ignored the residents of Northville when they could have acted. That's politics as usual," Koleszar said. "I want you to remember that the real heroes of the week are the parents and citizens of Northville who organized and kept up the hope, despite being ignored by their electeds for years."
"Northville Township residents have suffered far too long due to the negligence of the operators of the Arbor Hills Landfill," said Polehanki. "Their blatant disregard for air quality has been a nuisance to our community for years without meaningful improvement. Our community members and leaders persistently sounded the alarm about the landfill's continuous violations, and I am grateful for their fierce advocacy
Following investigations by EGLE and the U.S. Environmental Protection Agency, fugitive emissions were found to be the primary source of the odors. The state department issued multiple violation notices to the operator for its failures to properly operate the landfill and the gas collection and control system.
However, Advanced Disposal Services' failure to address the concerns has resulted in the state filing this lawsuit.
Plymouth Township Supervisor Kurt Heise was also supportive and responsible for the legal action.
"I want to thank Attorney General Nessel for responding to the July 16 request from me, Supervisor Nix and Mayor Turnbull to take legal action against the Salem landfill operators.The negative impact of this landfill is one of the most important quality of life issues in Western Wayne County. We must be unified in controlling this hazard and make sure it never expands," he said.
Seeking an opportunity to showcase, Mark Abbo, candidate for Northville Township Supervisor, issued an immediate press release following the announcement.
"I have relentlessly called for a lawsuit to address these concerns, and have focused attention on the continuing problems with the landfill as a top issue in Northville Township," Abbo stated. "It is gratifying that the AG's office is finally responding to this demand and the will of our long-suffering residents," Abbo explained.
"This lawsuit provides our residents with the most effective vehicle for obtaining corrective actions to eliminate the odor nuisance," Nix said.
READ MORE
Landfill odor protests continue
Landfill ticketed again following odor complaints
Traffic, odors prompt township action
Plymouth Voice.