Landfill is ticketed again following odor complaints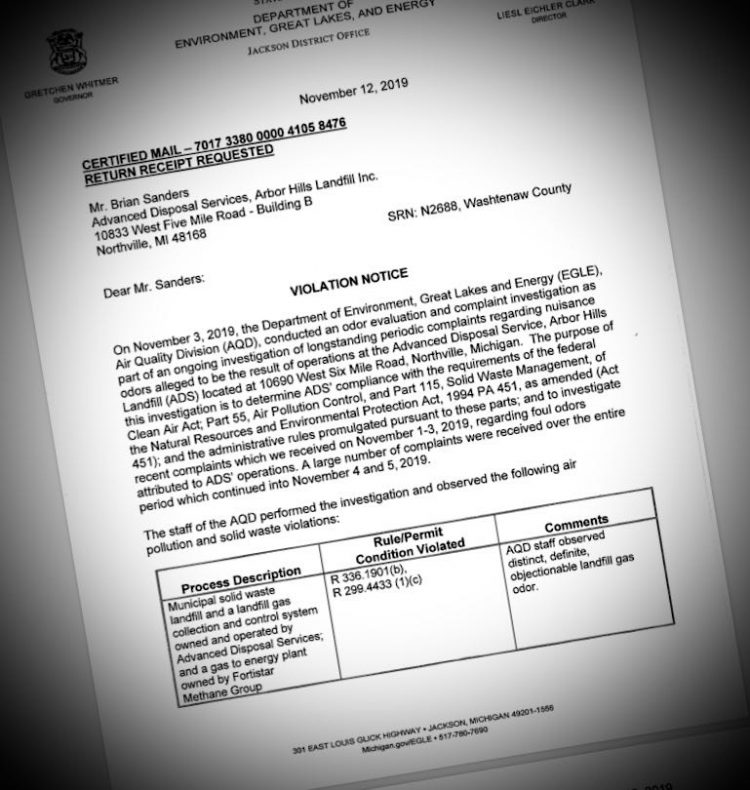 Dec. 6, 2019  PLYMOUTH EAGLE.
Plymouth Michigan News
Complaints from Northville Township residents resulted in a violation notice earlier this month to Arbor Hills Landfill in Salem Township, according to the Michigan Department of Environment, Great Lakes and Energy.
The violation was issued Nov. 3 following inspectors' observations of the odors in response to multiple complaints, according to an official statement from the department.
A landfill watchdog organization, The Conservancy Initiative, reported more than 350 complaints about odors were filed against Arbor Hills during the first 12 days of this month.
The complaints followed repairs by Advanced Disposal Service, the owner of the landfill, at the West Haul Road drain and the installation of a leachate sump system, projects the landfill owner told residents would correct the odor problems.
The state agency has also requested the landfill owners provide community information about actions being taken to correct the odor situation. Residents have expressed particular concern about the area near Ridgewood Elementary School which is located less than a mile from the landfill.
Plymouth Voice.