River Day-Annual volunteer clean-up of Rouge will be Saturday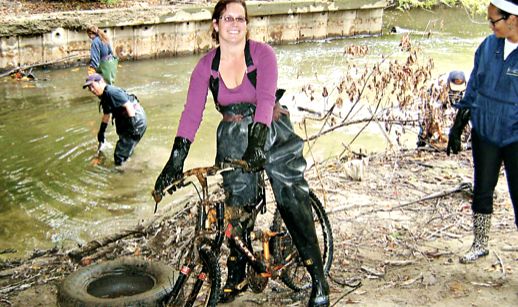 May 31, 2013  PLYMOUTH EAGLE.
Volunteers will pull shopping carts, plastic bags, bottles and huge tree limbs out of the Rouge River Saturday, in an effort to rescue the water way and improve the quality of life for everyone in the area.
Last year, the all-volunteer crew of workers removed 85 cubic yards of trash including nine shopping carts and two vehicles, along with 198 cubic yards of invasive plants. They also planted 3,960 native flowers and grasses and 60 trees and shrubs.
"Without the help of volunteers, we would never be able to accomplish the great work we do every year," said Cyndi Ross, the River Restoration Program manager for the Friends of the Rouge. Through the effort of volunteers, the Rouge River has experienced successes such as increases in the numbers and species of fish as well as the development of a canoe route, she said.
Friends of the Rouge along with several community partners, are looking for volunteers to join them in the effort on Saturday, June 1. Volunteers may choose from several local sites throughout the area.
The annual river clean up event, Rouge Rescue, began in 1986 in an effort to restore the most urbanized watershed in the state. When it rains in southeast Michigan, a majority of the water that falls is not absorbed but runs directly into the Rouge River, carrying pollutants with it. Rouge Rescue helps to alleviate the effects of runoff by stabilizing stream banks and installing native plants whose deep root systems help to trap and clarify the water before it enters the river, Ross explained. Residents can assist the river's natural processes year round by disconnecting downspouts and directing them to rain barrels or rain gardens, minimizing paved surfaces and replacing lawn grass with plants with deep root systems, she said.
Volunteers should wear long sleeves and pants to protect themselves from poison ivy. Helpful items to bring include: water, snacks, shoes or boots they don't mind getting dirty, hat, sunscreen, bug spray and a change of clothes (just in case). Gloves and trash and/or compost bags will be provided along with "Rouge Rescue" t-shirts as available.
Canton's annual River Day event will take place from 8 a.m. until 1 p.m. Saturday, June 1 at the Lower Rouge River Recreational Trailhead, located off Morton Taylor Road and Michigan Avenue. The event will take place rain or shine and volunteers of all ages including residents, students, and Scout troops are encouraged to participate.
Sites seeking volunteers include:
Meadows of Canton, Canton
Time: 9a.m.-12:30p.m. Directions: Lotz Road/Finley Street (On Lotz between Palmer and Cherry Hill), Canton 48188.
Edge, Canton
Time: 9 a.m.-2p.m. Directions: Meet by the pond near the corner of Gold Ridge and High Meadow Crossing, Canton 48188
Workman Elementary Habitat, Canton
Time: 9a.m.-Noon Address: 250 Denton Road, Canton 48187
Directions: Workman Elementary is located at the corner of Cherry Hill and Denton roads.
Lower Rouge Recreational Trail, Canton Township 
Time:   8 a.m. – 1 p.m. Address: Parking lot is north of Michigan Avenue on Morton Taylor Road.
Allen Drive Park, Northville
Time:   10 a.m. – 1 p.m. Address: Novi Street (not Novi Road) at Allen Drive
Mill Race Village, Northville
Time:   9 a.m. – noon Address: 215 Griswold Ave., Northville 48167
Northville Township Fire Station, Northville Township
Time:   9 a.m. – noon Address: 45745 Six Mile Road, Northville 48168
Woods Drive Area of Hines Parkway, Plymouth
Time:   8 a.m. – noon Address: 42401 Edward Hines Dr., Plymouth 48170
Pointe Park, Plymouth Township
Time:   9 a.m. – 11 a.m. Directions: Intersection of Ann
Arbor Road and Ann Arbor Trail.
Goudy Park, Wayne
Time: 9 a.m.-1p.m.
Address: Sims Avenue and Wayne Road, Wayne
For complete directions, see the EAGLE
www.associatednewspapers.net