Pure Michigan – It's Cider Time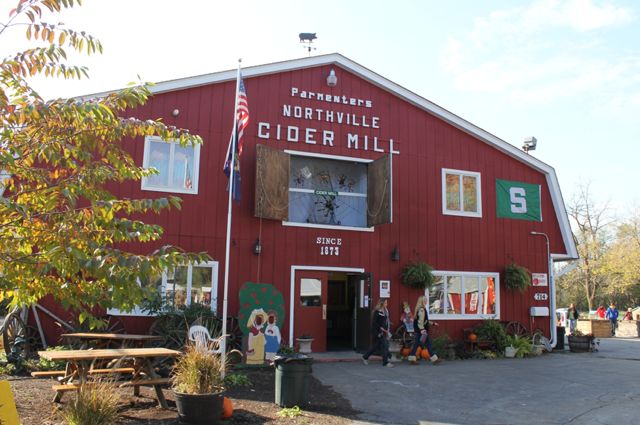 Upcoming Events
Historic Pure Michigan Cider Mills
As autumn paints Michigan in vibrant hues of russet and gold, you'll agree it's time to head out to any of the more than 100 cider mills that welcome visitors in September and October to savor a number of tasteful harvest-time treats.
Historic Dexter Cider Mill near Ann Arbor is the oldest continuously operating cider mill in the state. Today the cider mill keeps its more than 120-year old cider making tradition by using an oak rack press and blending three to five different locally grown apple varieties in every pressing.
he Franklin Cider Mill opened in 1837 as a gristmill, and is located in the Franklin Historic District north of downtown Detroit. It has been pressing apples into cider since 1895, and today, all 21 varieties of apples used are hand-picked fresh and 100 percent organic. For a special taste sensation, visit in late September for Honey Crisp cider. Take home apple pie or sugar-free apple pie or a bag full of the signature cinnamon spice donuts.
Yates Cider Mill in Rochester Hills has been water-powered since 1863, and presses 300 gallons of fresh blended apple cider per hour. Visitors can also indulge in fresh donuts, apple pies, fudge, apple crisp, jams, and more.
Historic Parshallville Grist Mill & Cider Mill in Fenton sits nearby North Ore Creek. Built in 1869, the Grist Mill is a Michigan Historic Site. Enjoy fresh cider, donuts, caramel apples, pies and a variety of specialty food items and gifts. The mill is open 7 days a week through November with entertainment on Sundays.
Uncle John's Cider Mill in St. Johns began in the early 1900's when the mill was a cattle barn. Today it offers the sweet scents of cider and donuts. In September and October explore the five-acre corn maze and straw bale maze, take a wagon ride, walk the nature trail, visit the pumpkin patch and enjoy a number of festive fall fammily events.
Blake's Orchard & Cider Mill opened in 1946 and was the first pick-your-own orchard in Michigan. This Macomb County favorite located in Armada is perfect for a family outing with fresh pressed cider and donuts and a full slate of bakery items to choose from. Kids can enjoy an animal farm, pony rides, a hayride, or picking apples in the orchard with the family. Special attractions are the Haunted Barn and a corn maze.
North of Flint in Mt. Morris is Wolcott Orchards & Cider Mill. The apple orchard was originally planted over 100 years ago by the Wolcott family. Enjoy a completely natural cider product — undiluted, unfermented, and unsweetened. Families can take a hayride in the orchard. Be sure to call ahead to order your favorite pies.
Plymouth Voice
(c) Michigan Economic Development Corporation