Officials vow to correct financial shambles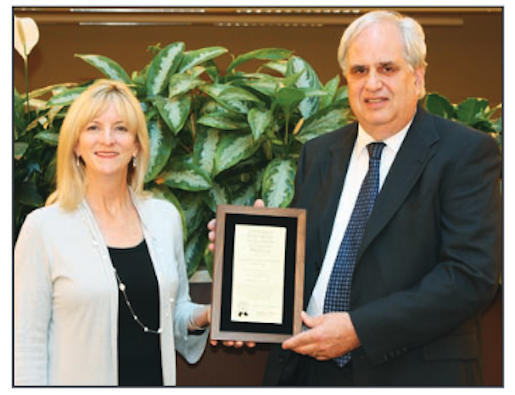 Former officials Nancy Conzelman and Ron Edwards exhibit Excellence in Financial Reporting Award – Fall 2013, Plymouth Township Newsletter.
Jan. 20, 2017  PLYMOUTH EAGLE.
Plymouth Michigan News
" We have to get through 20 years of dysfunction in this building. Time is of essence, our accounting practices are a mess-Id like to move on."
Don Howard
Staff Writer
After only three weeks in office, newly-elected officials in Plymouth Township are bracing for what they say will be a difficult task in bringing township records up to date and into compliance with acceptable government financial standards.
At the meeting of the board of trustees last week, Treasurer Mark Clinton recommended the township engage a professional accounting firm to provide additional services in the creation and recording of past business transactions. Clinton said the extra consulting services were necessary for the timely submission of the 2016 state audit.
Clinton expressed his serious concern regarding the state of records in the township and proposed a resolution to seek additional professional assistance from Plante Moran, the outside auditing and accounting firm used by the township.
"I think everyone here is aware that we went through a painful audit. I'm very concerned that we are going to run into a problem in 2017," Clinton told the board members.
Clinton said that his office and staff are continuing to correct problems from last year and that bank reconciliations have not been completed since march 2016. Clinton said he is working closely with Township Clerk Jerry Vorva on reconciliation problems with the General Ledger, where there was not a clear separation of responsibility between the clerk and the treasurer's office.
One example Clinton cited was an unexplained overpayment to Schoolcraft College in the amount of $188,000. Another was the return of $58,000 from the Municipal Employees Retirement System (MERS) for unearned employee contributions, something that would have been distribute d to outgoing board members had the past treasurer been successful in making 11th hour changes to their pension vesting period.
"We're not following best practices like other communities-there are much more efficient ways to work," Clinton told the board members.
Last month newly elected Township Supervisor Kurt Heise, on the job only six days, talked of his frustration and that of Clinton and others who had discovered an unusual number of records and files missing, including empty file drawers and records binders. Just prior to the takeover, Plante Moran auditors noted significant uncorrected differences between bank statements and the general ledger, amounting to $1,100,000. Federal auditors from the Department of Justice (DOJ) also found discrepancies and what they described as internal control weaknesses in the township financial practices, specifically targeting the misuse of federal drug forfeiture funds in the March 2015 audit investigation report.
Long-serving Trustee Chuck Curmi objected to using Plante Moran for assistance rather than engaging existing township employees or others and said that he wasn't going to support Clinton's proposal.
"I'm totally surprised by this," Curmi said. "The treasurer is not the chief financial officer." Curmi asked for the decision to be tabled to a study session or have the board members consider other alternatives to paying Plante Moran. Curmi said he felt there were employees who could assume the task and that he objected to having Plante Moran in a position to audit their own work.
Curmi suggested Clinton look at Michigan Township Association (MTA) resources for help.
"We're paying Plante Moran $220,000 a year-I'm not going to support this." Curmi said in reference to the hourly rate the auditors proposed. He claimed the amount annualized would equal the $220,000.
Heise said he felt the problems were the result of years of misinformation and a lack of accountability and MTA was not a good choice.
"I'm not going to bring MTA in here. We have to get through 20 years of dysfunction in this building. Time is of essence, our accounting practices are a mess-I'd like to move on," Heise said.
"We recognize the gravity of the problem, and it's big," Vorva told Curmi.
"We can't find this stuff-we spend hours looking for stuff that doesn't exist…I agree with you Chuck (Curmi), I don't like it but it's the best thing to do."
Clinton said the Plante Moran engagement was not a time and material contract and that in spite of his critics he felt is was the best to way to work around an existing and antiquated business "best practice plan -from the 90s". Best practice accounting practice is the system of procedures and controls that an accounting department uses to create and record business transactions.
"Plante Moran regularly stood-up our process year after year saying the process was good and now they're being paid to unravel it?" Curmi asked. He didn't object to the creation of best practices, but to paying the audit firm for day-to-day tasks, he said later.
"I believe Plante Moran can be a part of the solution," Clinton said. "We're nine months behind." The proposed contract stipulated the total amount for the scope of work was not to exceed $40,000. There was no estimate of the time or hours that might be required to reconcile the general ledger and bring the accounts into compliance.
"It won't be easy or cheap for us to restore professional standards to our financial, accounting and purchasing operations," Heise commented later.
The motion was approved on a 5-1 vote with Curmi casting the no vote. Trustee Bob Doroshewitz was absent.
Plymouth Voice.