Popular football star lights up fans with memoirs and anecdotes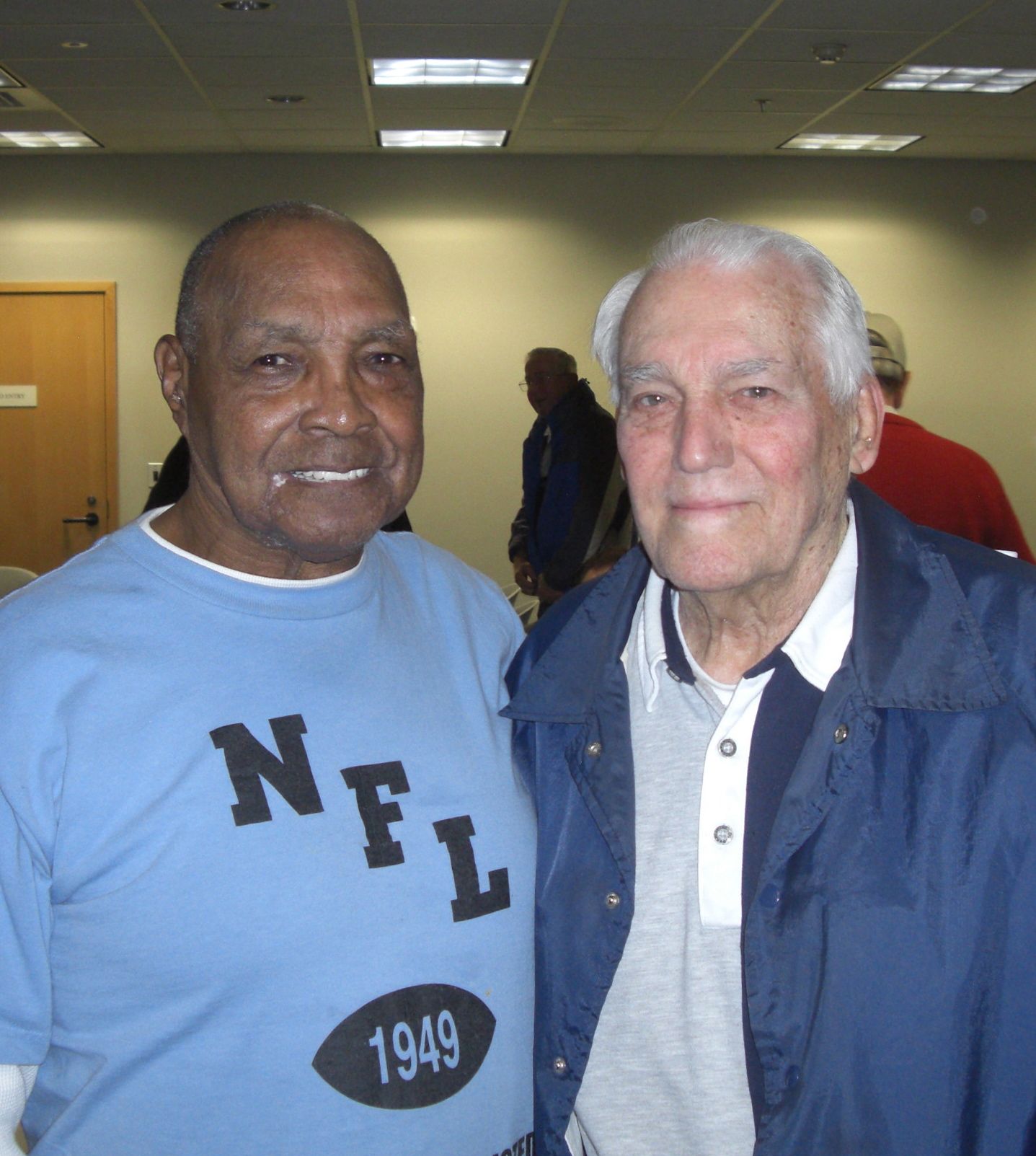 Dec. 8, 2012  PLYMOUTH VOICE.
You can't help but like Wally Triplett.
The long time local resident, a football great who played for the Detroit Lions and Penn State, was the guest speaker last Tuesday at a special presentation at the Westland Library where he reminisced about his life experiences and football career.
Triplett, a star in himself, who set records and played in a tough sport with some of the best and roughest football players of the era, was the first black to be drafted in a segregated and prejudiced league. He insists being referred to as a Negro.
Even though Triplett has many bragging rights, there is no ego trip with this humble gentleman. After his football career, Triplett stayed in the Detroit community and made a living for his family selling insurance and operating a liquor store. He is proud of his accomplishments, and the fact he has been married to his wife Leonore for nearly 63 years. He still lives in the same house he had in the forties and frequently talks of his love for his country. He served in the Army in Korea.
Triplett who grew up in an affluent area of Philadelphia, holds no prejudice or anger for the injustices he and other black athletes suffered in the forties and fifties when they traveled by bus and train to many cities across the country. "That was America. Penn State prepared me for the world, but I wasn't prepared for the racial discrimination." Triplett said.
Triplett broke the color line when was accepted at Penn State in 1945 and signed on as the first "Negro" in the league. Penn State was not a segregated, but Triplett soon learned differently, saying "In America there were two world's we lived in"
Triplett said while still attending High School in Philadelphia he received a letter to play ball for the University of Miami, in Coral Gables. When he replied, they acknowledged his acceptance and wrote back. He said the letter read, "We made a mistake," they thought I was white.
During Tuesday's presentation, local Westland resident and fan Bob Hoyruk, surprised Triplett when he introduced himself as a classmate from Cheltenham High School in Philadelphia. Hoyruk said he knew Triplett in 1945. Later that year he quit school to join the Navy.
Years later while still living in Detroit, Triplett said smiling, "I learned what the signs on the Dearborn Police cars meant that read Keep Dearborn Clean" referring to their continued segregation policy.
Tripplett knew the famed Paul Robeson, singer, actor and civil rights activist and said he was a great inspiration in his career. Robeson was a football All-American and an NFL player.
Triplett said he and famed baseball star Jackie Robinson, who became the first black Major League Baseball player to break the color line in that sport were also good friends in 1945. Robinson started with the Brooklyn Dodgers in 1947.
Triplett's appearance was set-up and made possible by local publisher, Del Reddy and Marilyn Kwik of the Westland Library.