Political suicide-the end has to be near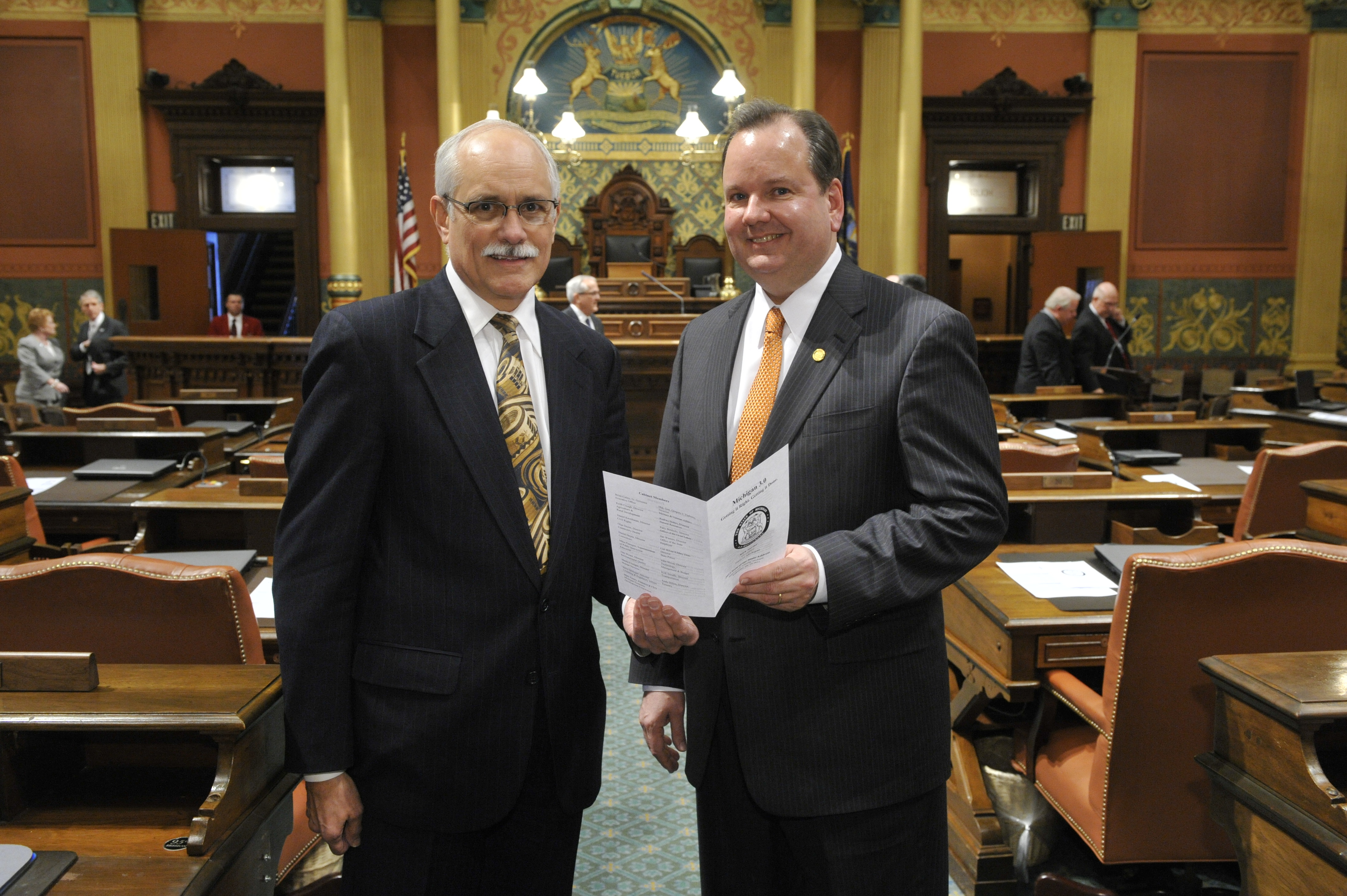 Posing in Lansing – Richard Reaume, Plymouth Township Supervisor with State Rep Kurt Heise, R-Plymouth and Plymouth Township in 2012.
Nov. 15, 2014  PLYMOUTH VOICE.
Plymouth Township News
OPINION
The latest twist to an already bizarre string of events that has crippled the Plymouth Township Board is rapidly unfolding as their supervisor, hell-bent on revenge, is about to go back to court to re-file another recall petition against one of his dissenters.
According to a recent news report, Plymouth Township Supervisor Richard Reaume, himself a prime recall target within the seven-member board of which six now face the possibility of recall, claims the recall election laws are ridiculous and need to be changed. He filed recall petitions last month with the Wayne County Elections Commission against trustees Bob Doroshewitz, Chuck Curmi and Mike Kelly. But the court rejected a petition against Curmi on the grounds that it was unclear. Vindictive and angry, Reaume says that he will reword and re-file the petition against Curmi, but not collect the required petition signatures.
According to the report, Reaume says he filed the petitions in an attempt to draw attention to Michigan's "loose" recall laws, which he said officials should only be subject to recall attempts in cases of illegal or unethical behavior or fiduciary lapses.
It is his Board of Trustees, fractured by infighting and his lies, contradictions and vacillation, plus an open federal audit, finger pointing and a police department sex scandal that has the left Plymouth Township broken and now nearly unable to function.
However, we feel Reaume's stance and child-like actions have another disgusting underlying motive, one essentially aimed to clear the path for a reason for him to go to Lansing to save face and try to spare his job-which has all the appearances of being very short lived.
Says Reaume, "We'll take it to the Legislature and show them how ridiculous this is, that the law needs to be changed."
We think Reaume's most likely ally might be Kurt Heise, now ready to emerge from political abstention and come to the rescue.
In a confusing statement, Heise said, "I put the constituents first. I'm involved in local issues. I take care of local concerns … things that really matter at the grass-roots level.  They know that I listen, I can explain my votes and I am always working for the folks back home."
Heise, an in-your-face politician and Plymouth Township resident, landed a third term in the Michigan House of Representatives this month serving the 20th District which includes Plymouth, Plymouth Township, City of Wayne, Northville Township and part of Northville.
Heise is an attorney and former Wayne County official who likes to brag about his recent campaign where he took 61 per cent of the vote and says he knocked on 10,000 doors.
"I'm a lawmaker-not law enforcer," says Heise, who has up until now stayed away from the fray of the township politics, fire department safety issues, skipped monthly board meetings, skirted the recall melee, and didn't comment on the DOJ forensic audit-investigation; not to mention the multitude of the open township lawsuits over public safety and land use including a controversial one for him-City of Detroit versus Plymouth Township over the illegal sale of the Detroit House of Corrections farm land on Five Mile Road.
Maybe his stay-away-don't-get-involved posture was because of his affiliation with Hemming, Polaczyk, Cronin, Witthoff and Bennett, the attorneys who represent Plymouth Township in most business matters. Or maybe because he has told several insiders he wants to run for Plymouth Township Supervisor in the 2016 election when's he's term limited.
Perhaps he won't have to wait until 2016 for a crack at Reaume's job. Reaume recently and quietly sold his Plymouth Township home and purchased a condominium in Florida and his ridiculous circus-clown antics have all the appearance of political suicide.
He has to know his time here is short; most of us hope so, anyway.
Plymouth Voice