Plymouth Rock agrees to sell or close business
Jan. 17, 2013  PLYMOUTH EAGLE.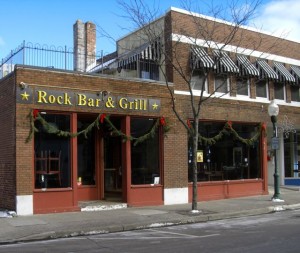 A last-minute agreement between city officials and the owner of the Rock Bar and Grill requires evidence of new ownership of the popular nightspot before Feb. 1.
Kevin Montagano, owner of the Rock, agreed to find a buyer or close the bar by the specified date. The city, in turn, agreed to hold off for 90 days sending a recommendation to the state Liquor Control Commission requesting that the permit to sell alcohol by the glass at the Rock be revoked.
Terms of the agreement, negotiated in part by Montagano's attorney Keith Kecskes in the days prior to the hearing last Monday evening, require that Montagano produce a signed purchase agreement for the Rock along with earnest money against the sale price. The agreement also stipulates that the sale must be to an unrelated party.
Montagano also agreed not to contest the complaints and alleged violations which have been under discussion by the city com- mission for months. Repeated complaints over the past year from neighbors and police reports of incidents of drunk and or disorderly conduct of intoxicated patrons, noise, littering and other issues prompted city officials to schedule public hearings on the revocation of the liquor license at the Rock.
The vote on the revocation of the permit was unanimous and officials can send the recommendation to the state at any time should there be other violations reported while Montagano attempts to negotiate a sale of the business.