Parents of 15-year-old stabbing suspect had filed criminal sex complaint against boyfriend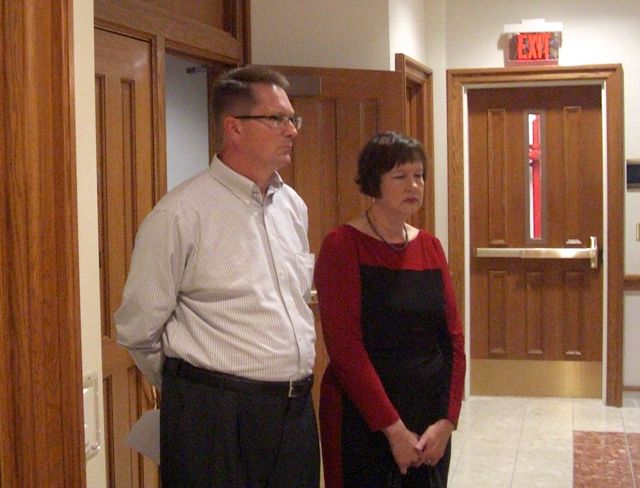 Jeffery and Laurene Sikorski parents of 15-year-old stabbing suspect in Plymouth's 35th District Court in October
Nov. 5, 2014  PLYMOUTH EAGLE.
Plymouth Michigan News
A 15-year-old Plymouth Township girl and her 23-year-old boyfriend are accused of conspiring to murder her entire family beginning with a vicious attack on her 12-year-old brother.
Roksana Sikorski, a ninth-grade student at Salem High School, was charged as an adult and arraigned on felony charges after her arrest by Plymouth Township Police Oct. 17. Her parents, Jeff and Laurene Sikorski, had filed criminal complaints against her boyfriend, Michael Angelo Rivera of Detroit, on July 30 after the pair ran off together. A warrant was requested for Rivera by Plymouth Township Police on charges of criminal sexual conduct third degree and accosting a minor for immoral purposes. According to Maria Miller of the Wayne County Prosecutor's Office, the warrant request for Rivera was received on Sept. 1 and was approved and faxed back to Plymouth Township police on Sept. 26. Plymouth Township police said, however, that they had never received the warrant.
 The couple was reportedly stopped by Plymouth officers at 2 a.m. sometime in September and released as there was no warrant for Rivera on record. The warrant was reissued on Oct. 17, according to Miller.
Officers and paramedics were called to the Sikorski family home on Glenmore Court at about 2 a.m. on Friday, Oct. 17 on a 911 report of a stabbing. Prosecutors allege that Sikorski attacked her 12-year-old brother with a knife and repeatedly stabbed him in the neck while Rivera was outside the home texting instructions and photos to her. She reportedly also attempted to stab her younger sister, 11.
Prosecutors said that the screams of the 12-year-old alerted Sikorski's parents and that Rivera and the 15-year-old fled the scene before police and paramedics arrived. Paramedics from Plymouth Township provided immediate aid to the boy who was transported to Mott Children's Hospital in Ann Arbor where he underwent surgery for injuries to his neck and throat. Officials said that he is expected to make a full recovery and has been released from the hospital. The younger sister was not physically harmed in the attempted attack by her sibling, according to police, and the knife used in the attack was recovered by police.
All three of the children were adopted from a Polish orphanage more than 10 years ago, according to court testimony at Sikorski's arraignment in 35th District Court last Thursday. Sikorski's attorney, Leslie Posner of Detroit, entered a not guilty plea to the criminal charges including four counts of conspiracy to commit murder, one count of assault with intent to murder, one count of using a computer to commit a crime and one count of felonious assault. Judge James Plakas set her bond at $1 million during the arraignment proceeings, which both her parents attended. Plakas required that should bail be posted for Sikorski, she have no contact with either of her siblings but did allow her contact with her parents. Her preliminary hearing is scheduled for tomorrow, Oct. 31, as is Rivera's.
Wayne County Prosecutor Kym L. Worthy made the decision to charge Sikorski as an adult in the attack and alleged plot motivated, prosecutors allege, by Sikorski's desire to again run away with Rivera.
"Bluntly, it is rare for this office to charge a 15-year-old as an adult. However, the alleged facts in this case strongly warrant this decision. The alleged actions of this defendant and her co-defendant, to conspire to kill her entire family, are truly haunting," said Worthy in a prepared statement.
Rivera and Sikorski were arrested on the southwest side of Detroit at about 8 a.m. Friday, only about six hours after the attack, by members of the Western Wayne County Criminal Response Team, which had been mobilized after the incident, according to Plymouth Township Police.
Rivera was arraigned Oct. 19 on the same charges as Sikorski, excepting the use of a computer violation. A $1 million cash or surety bond was set for him by the court.
P;ymouth Voice.