Parades mark 4th celebrations tomorrow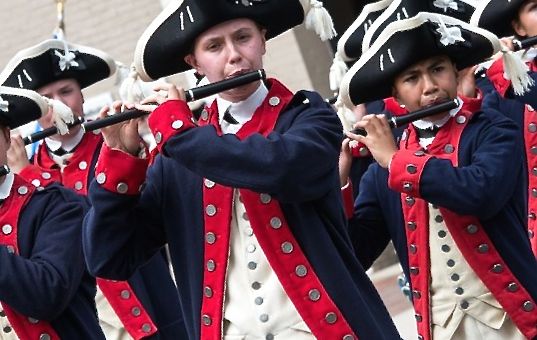 Plymouth Fife and Drum Corps
Jul. 3, 2014  PLYMOUTH EAGLE.
Plymouth Michigan News
Two of the most popular Independence Day parades will take place in downtown Northville and Plymouth tomorrow.
Celebration of the 4th of July will begin in Plymouth tonight with a free patriotic concert by the Community Band in Kellogg Park at 7:30 followed by fireworks at Township Park beginning at 10:15 p.m. The fireworks event is free, but there is a $5 parking fee. Gates will open at 7:30 p.m.
The park is located at 46640 Ann Arbor Trail. For information, call (734) 453-3840.
Tomorrow, the annual Plymouth Fourth of July Good Morning America parade will take place down Main Street from Theodore to Hartsough beginning at 9 a.m. and ending at 11. The parade usually features about 85-90 groups, floats and entertainment including the Fred Hill Brief Case Drill Team.
The annual Plymouth Township picnic will take place in Township Park from 11 a.m. until 4 p.m. with hot dogs, chips and ice cream all priced at five cents. There will also be games and entertainment.
The annual Northville Community Foundation Independence Day Parade, which draws an estimated 20,000 spectators to the town, will step off from Northville Downs staging area at 10 a.m. sharp. The parade includes floats, sports team mas- cots, characters, bands, classic and vintage cars, veterans, fire trucks, bikes, dance troupes, school groups and even live animals on some of the floats.
The theme of the Northville event this year is Celebrating America's Heroes, and veterans of the armed service will be among the heroes honored. The parade route begins at the corner of Griswold and Main Street and continues down Main to Rogers to Cady to Wing to Fairbrook Street and ends at Fairbrook and Center Street.
As always, the annual children's bike parade is expected to be a highlight as is the pet parade.
The main sponsor of the Northville parade is St. Mary Mercy Livonia which has sponsored the event for more than a decade and each year enters a crowd pleasing float or two.
For more information about the Northville event, visit www.northvillecom- munityfoundation.org or call (248) 374-0200.
One group that can be seen in both parades is the Plymouth Fife and Drum Corps.
Members of the group will be a highlight of both the Plymouth and Northville 4th of July parades. In addition, the group will appear in a pre-game performance at Comerica Park beginning at 7:08 p.m. just prior to the Tigers taking on the Tampa Bay Rays.
The performance will take place in front of Gate A off Witherell Street.
During a special 4th of July pregame celebration, they will march around the field inside Comerica Park while performing patriotic Revolutionary War era fife and drum music in their historically accurate colonial uniforms.
Plymouth Voice.