Officials question fire truck purchase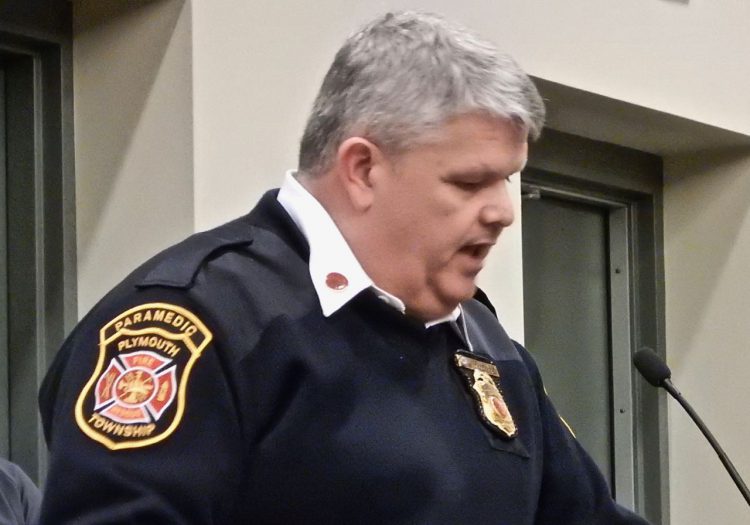 Feb. 21, 2019  PLYMOUTH EAGLE.
Plymouth Michigan News
Don Howard
Staff Writer
Just three months after Plymouth Township voters approved a public safety millage to fund the replacement of aging fire trucks and antiquated fire safety equipment, maintain facilities, and increase fire department staffing to adequate levels, board members are bickering about the cost and specifications for a new fire engine ladder truck.
During the regular meeting of the trustees last week, Township Fire Chief Dan Phillips attempted to make a presentation detailing the specifications for the new fire truck which was interrupted by squabbles, comments and interrogation from board members.
Board members, many of whom campaigned on the issue of increased fire safety, repeatedly interrupted Phillips to question his judgment about specifications for a new truck and suggested a different type of vehicle might be more appropriate to the needs of the community. The township does not have a ladder truck to reach higher than two floors, causing undue risk and delay to citizens in a home larger than ranch style.
The discussion became heated when Township Clerk Jerry Vorva acting on a request from Trustee Chuck Curmi, who was vacationing, asked the board, on Curmi's behalf, to postpone the chief's presentation. Trustee Gary Heitman objected to the request and following some discussion, board members agreed to hear the presentation but postpone a vote until the full board was present.
Trustees questioned Phillips as to whether the purchase of a fire engine ladder truck was necessary and whether the one identified and specified in the chief's report would best meet the needs of township residents.
Currently, with one exception, the township fire department has no way to battle fires of more than one story or perform rescue work above ground level and must rely on mutual aid from surrounding communities for use of an aerial truck or engine-ladder apparatus, Phillips said. Many times, fire officials report, critical minutes are lost when the available equipment dispatched to the scene is found to be inadequate for the rescue of victims, necessitating an 11th-hour call for help to neighboring fire departments, like Canton, Northville and Livonia.
Phillips highlighted various township landmarks of critical importance, like Plymouth Independence Village, Bosch Corp., the Burroughs building, St. John's Seminary and Conference Center, Hilton Garden Inn, Holiday Inn Express, Comfort Inn and Oerlikon, Phillips where ladder trucks were a necessity, and most often two or more units were required.
Phillips emphasized three-story 35-foot buildings like Northridge Church, LA Fitness and Red Roof Inn, indicating it was only a partial list of buildings the department could not adequately protect. Phillips added that the new Hillside Residences slated for the Court House Grill property would be four stories high when completed.
A township fire last month on Sheffield Court on the west side, necessitated a call for mutual aid from the Northville-Plymouth Fire Department to use the 100-foot aerial ladder truck.
Township officials reported it was 30 minutes before the truck arrived on the scene, likely because the volunteers-on-call must first drive to the fire station to retrieve the vehicle.
As the discussion escalated, Vorva cross-examined Phillips in detail, questioning how the township was able to protect the citizens without a ladder truck and asking whether there was a mutual-aid policy in effect with neighboring communities.
"When is the last time we had a working ladder truck? Since 2012, has there been any fires in these buildings? Do you have an agreement for auto-mutual-aid? Have they ever denied use of that? A tower truck would be better for taking most people out of Independent Village, (a large multi-story assisted living facility on Northville Road)," he said.
"I want to be clear, we're going to be getting the kind of equipment that's going to work for us, so at the same time we're (not) buying stuff just so to buy it," Vorva stated.
Phillips disagreed with Vorva's idea, based on his experience, that a tower truck would be a better choice, claiming raising and lowering the bucket for rescue is much slower process than the ladder vehicle he recommended.
"I'm not sure we want to spend and extra $300,000 for something…My issue is we should be sharing services so we provide good service at the proper cost-for the difference we could buy another ambulance," Vorva retorted.
"We don't need another ambulance." Supervisor Kurt Heise responded.
Treasurer Mark Clinton said he wanted to know the risks involved in not having a ladder truck.
"Do I want to be the one who's responsible for a person being trapped on a top floor because I didn't want to spend $30,000 a year for the next 10 years…I'm not sure I want to be that person," he said.
"You're haggling over $30,000 a year," Heise scolded Vorva.
Trustee Bob Doroshewitz, who has publicly admitted he has not been an avid or enthusiastic supporter of the township union fire department in the past, said he's in favor of a "regional plan where the chiefs get together."
Last year after a failed 11-month combined fire services trial at the Lake Pointe Fire Station No. 2, Northville Township moved out. During the period the station had to be closed numerous times because of insufficient staffing. The station had been closed since 2012 when a longstanding shared-service agreement between the township and the City of Plymouth ended abruptly, resulting in radical restructuring and layoffs in the fire departments of both communities.
"No fire department in this region can have everything," said Doroshewitz. "The money is burning a hole in somebody's pocket."
Vorva pressed Phillips, "How many people have died over the last 20-years in those buildings, because of fires?"
"None," Phillips replied.
"If there's one, that's one too damn many. You tell the citizens you're betting nothing's going to happen-I'm not telling them," said Heitman.
Plymouth Voice.
Photo: © Don Howard / Associated Newspapers