Northville hosts first responder virus testing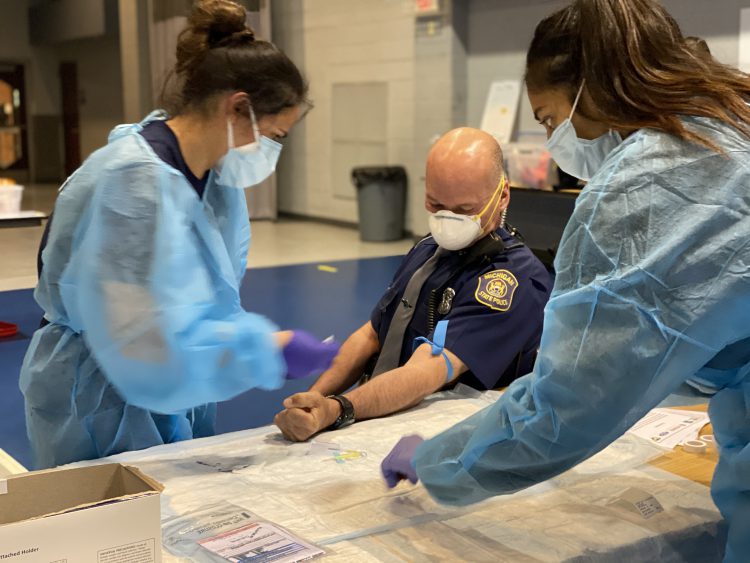 May 21, 2020  PLYMOUTH VOICE.
Plymouth Michigan News
Don Howard
Staff Writer
Four hundred first responders, police officers and firefighters of Northville Township and 16 surrounding area communities participated in an all-day testing initiative last Thursday at Ward Memorial Presbyterian Church under the direction of human services non-profit ACCESS (Arab Community Center for Economic and Social Services) of Dearborn.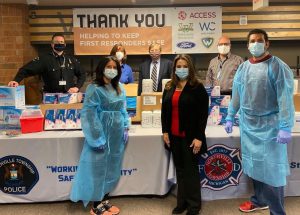 Northville Township officials and board of trustees members sponsored the serology testing at the church facility to identify first responders who had COVID- 19 and now have developed antibodies against the disease. This test differs from the test to diagnose the virus.
Ford Motor Co., Wayne State University and the Wayne State University Physician Group and ACCESS established the partnership to improve access to testing for the states first responders, health care workers and corrections officers.
Health care professionals who conducted blood tests at the Northville testing site were employees of the Wayne State University Physician Group.
"Antibody testing for people who've recovered from COVID-19 is important, and according to experts, individuals may be eligible to donate plasma that could be used to treat others with severe disease and boost the ability to fight the virus. Testing is another method to identify first responders who were infected but were asymptomatic," said Northville Township Police Chief Paul Tennies, who controlled the event. As a precaution, once test results are presented a rapid test is conducted if someone tests positive, he added.
"This was a very significant testing event for the first responders and the 16 participating communities to help us determine how to respond to COVID-19," added Township Supervisor Robert Nix.
In addition to the participation in the mobile testing initiative, Ford Motor Co. helped produce and distribute critical medial equipment in the past two months, including face masks and ventilators. A Ford supplier has produced millions of face shields at the Plymouth Township TDM Sheldon Road facility.
Plymouth Voice.
Photos:  Northville Township Police Department