House Speaker – Twp Supervisor welcome President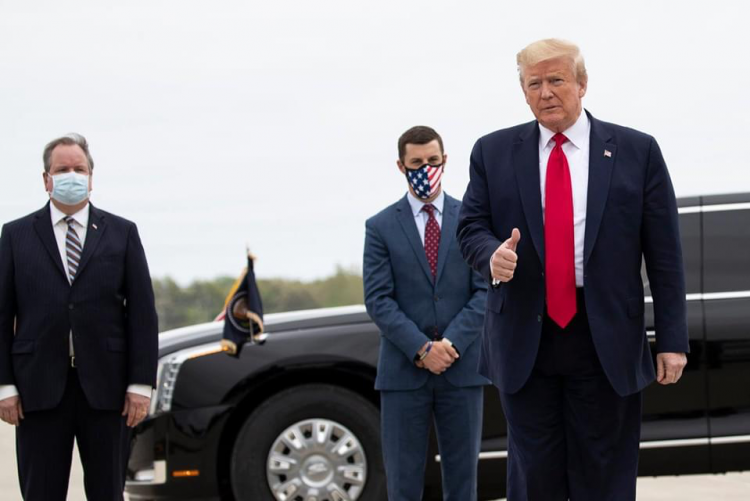 May 22, 2020  PLYMOUTH VOICE.
Plymouth Michigan News
Don Howard
Staff Writer
State House Speaker Lee Chatfield (R- Levering) and Plymouth Township Supervisor Kurt Heise, a former 3-term State Representative that served with the speaker, welcomed President Donald Trump as he stepped off of Air Force One at Detroit Metro Airport, just before 2:00 p.m. Thursday afternoon.
The planned visit was set to recognize the work of Ford Motor Co., General Electric and private entities, like Troy Design and Manufacturing (TDM) of Plymouth Township, that have retooled their automotive assembly processes to build and supply vital medical equipment for hospitals, like face shields, ventilators and personal protective equipment.
The first tier Ford supplier began producing face shields at their Sheldon Road plant on March 23 and has since supplied millions of units for use by first responders.
The presidential visit occurred just days after automakers returned a portion of their workforce to facilities across the state.
"It was my honor today to join with Michigan House Speaker Lee Chatfield to welcome the President." Heise remarked after the meeting.
"I stand with the United Auto Workers, who said in a statement they are proud to welcome President Trump to Michigan to see UAW members' efforts to build life-saving ventilators and PPE. At plants all over the nation, our members have been working long hours to get these facilities ready for the restart of our economy and these first days back to work. We are pleased and proud that President Trump has chosen to visit the Ford facility to see firsthand the good works of our brothers and sisters."
"Welcome back to Michigan, President Trump. Thank you for all your support of our state. We won't forget it. We've got you back." Chatfield later tweeted.
At the Ford facility meeting the president called for states to begin reopening their economies.
"We did the right thing, but now it's time to open it up, a never-ending lockdown would invite a public health calamity. To protect the health of our people we must have a functioning economy."
"… With your help in our policies this country is poised for an epic comeback. This is going to be an incredible comeback. Watch, it's already happening."
Both Heise and Chatfield are strong supporters of the president, but hold no formal role in his election campaign.
Plymouth Voice.