Northville Arts and Acts set this weekend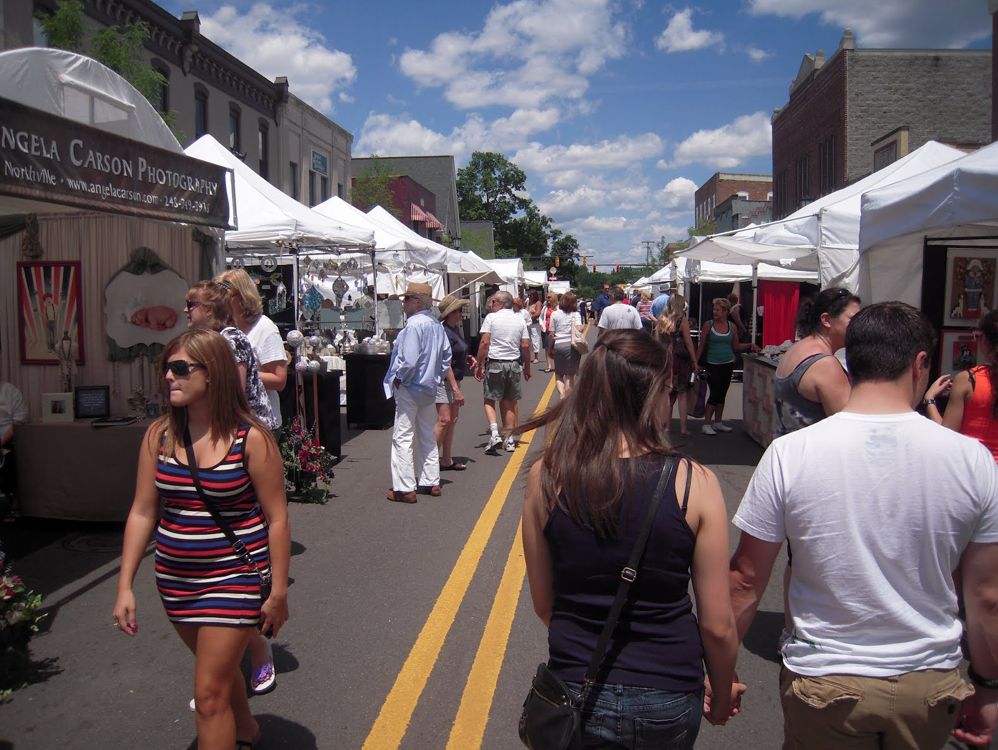 Jun. 28, 2013  PLYMOUTH EAGLE. 
The Arts and Acts Festival will return to downtown Northville this weekend shining a spotlight on the imagination, art, talent and cultural diversity of artists throughout the region.
The event will take place June 28-30 and will include the 25th annual juried fine art show "Art in the Sun", featuring more than 60 artists; the Reel Michigan Film Festival at the Marquis Theatre; the Sandbox Play Festival produced by Tipping Point Theatre; the Short on Words literary contest; musical entertainment featuring some of metro Detroit's top musicians; children's activities, including a fairy door scavenger hunt and free mural painting along with a large variety of festival food and drink.
The festival will begin at 3 p.m. tomorrow and continue through 9 p.m. On Saturday, events will begin at 10 a.m. and continue until 8 p.m. and on Sunday, the festival will begin at 10 a.m. and end at 5 p.m.
The main activities will take place on Main and Center streets throughout the downtown area. More information is available at the Northville Art House, (248) 344-0497 or at www.northvillearts.org.
As part of the fourth annual Arts and Acts Festival, the Reel Michigan Film Festival 2013 will feature a diverse collection of Michigan-made short films beginning at 5 p.m. Saturday, June 29, at the historic Marquis Theatre, followed by a question and answer session with filmmakers. At 8:30 p.m. there will be a special community screening of Judith R. Burdick's documentary, Transforming Loss. Immediately following will be an after-party, with awards, at Poole's Bak Bar.
The powerful documentary Transforming Loss, produced by Burdick , provides first-person accounts of six Michigan families and their remarkable stories of pro- found loss and transformation.
This year, Reel Michigan will feature Kathi J. Moore as emcee. A Michigan native, Moore has appeared in a wide range of acclaimed projects, most notably on film as Phyllis in the James Franco project "Tar" and on stage as Mrs. Ware in Dr. Sweet's Tinderbox. Behind the scenes, Moore has contributed to the state independent film community in casting and production and is a veteran of the burgeoning "48-hour" film genre.
Tickets are $10 and available at Northville Art House, 215 West Cady St. Northville, (248) 344.0497 from 1-5 p.m. Wednesday through Saturday; the Marquis Theatre Box Office, 135 East Main St. Northville, (248) 349-8110.
The after party is included in the admission price for those older than 21. The Bak Bar is located at 157 E. Main St. in Northville, directly behind Poole's Tavern.
Arts and Acts sponsors this year include: Majic Windows, DTE Energy, Varsity Lincoln, Leaf Filter, Detroit Home, Allstate Insurance/Bailey-Drabicki Agency, Preservation Dental, Town and Country Eyecare, Genitti's Hole-in- the Wall. All proceeds of Arts and Acts will benefit the Northville Art House.
Musical entertainment in the Town Square includes the Juliets at 7 p.m. Friday; Steve Taylor and Renee Paquette at 3 p.m. Saturday; Saint Cecilia at 5 p.m. Saturday; the Flutter and Wow at 7 p.m. Saturday.
Vincent York Jazzistry will perform beginning at 1 p.m. Sunday in Town Square.
|News Plymouth Michigan