New school still troubles neighbors in subdivisions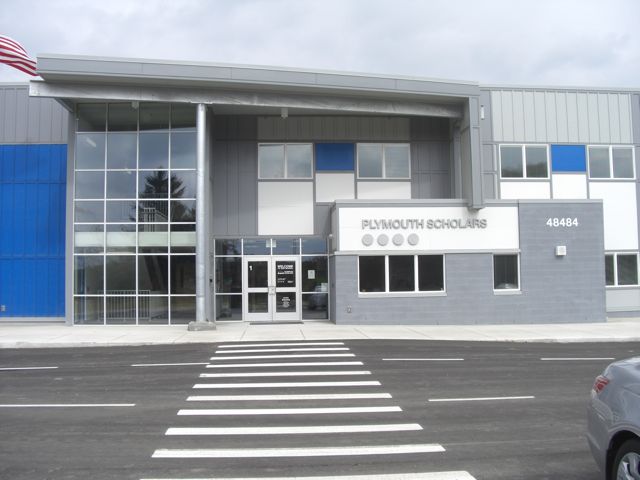 Oct. 18, 2012  PLYMOUTH EAGLE.
Construction is almost complete and classes have officially begun at the new 47,000 square foot Plymouth Scholars Charter Academy in Plymouth Township.
The school located on North Territorial Road opened Sept. 1 to 570 new students and a formal dedication and open house took place two weeks ago.
Some neighbors, however, weren't celebrating the opening of the new facility.
Several residents of Rolling Oaks subdivision, where the new school is located, are still upset about the construction noise, dirt and inconvenience they experienced during the last few months.
"It's ugly and it's out of character for the area," one resident said.
"We're very concerned about the traffic inside and surrounding our subdivision."
Residents say the more-than- two-story building along with the playground and 150-car parking lot could possibly hurt property values in the subdivision.
Subdivision residents claimed earlier this year that Plymouth Township officials quietly approved the development of the school without properly notifying the homeowners whose prime residential property surrounds the sprawling 9-acre complex developed by the National Heritage Academy of Grand Rapids.
This past April, the objections of 17 residents fell on deaf ears at the township planning commission.
Zoning changes facilitated by the Plymouth Township Board of Trustees and their agreement with Livonia builder Leo Soave Developments, LLC was listed on the agenda.
Residents told the planning commission members they felt they had no say as to what was going to be built just outside their back yards. Residents said they had no idea a school was slated for the property until, "The road-graders woke us up early one morning, two weeks after the meeting."
In 2005, Township Supervisor Richard Reaume agreed to a zoning contract with Soave, who asked for permission to change the zoning classification. The published property description labeled the project as condominiums. Zoning regulations in the township allow for the construction of a school building in property zoned for condominiums.
Residents said they now have new concerns.
Plans by township officials to open a street in the middle of the subdivision to accommodate the construction of new condominium homes, scheduled to be developed by Soave, will create more construction traffic and noise, neighbors said.
The Plymouth Scholars Academy now accommodates kindergarten through sixth grade students, but plans to include students through grade eight. Jaclyn Jeffery, who previously served as principal at Keystone Academy in Belleville, is the new principal.