National Weather Service issues High Heat Warning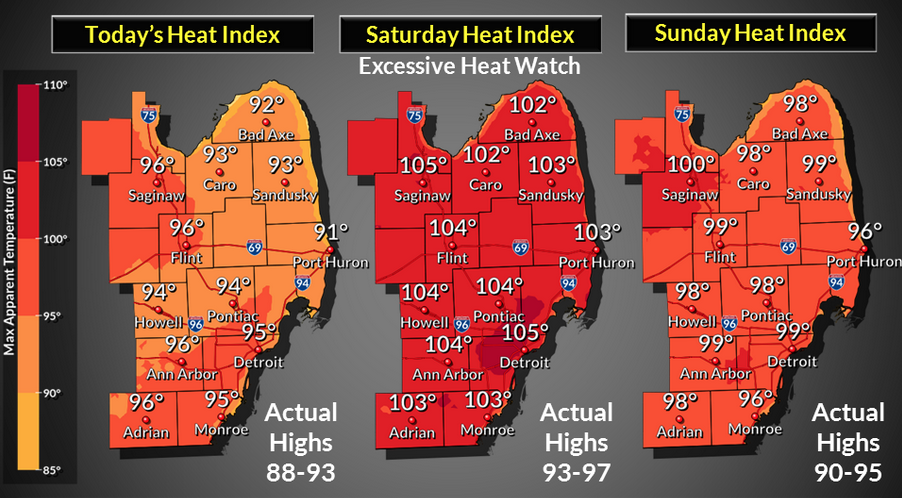 Jun. 29, 2018  PLYMOUTH VOICE.
PLYMOUTH MICHIGAN NEWS
The Detroit/Pontiac office of the National Weather Service has issued an Excessive Heat Warning in effect for Southeast Michigan this weekend. The warning is in effect until midnight Saturday.
Temperatures are expected to reach highs in the 90s. These readings, along with increasingly humid air moving into the region could lead to the heat index to reach 105 degrees. Dangerously high temperatures can be expected beginning Friday with humidity increasing throughout the weekend. The heat index will eclipse 100 degrees on Saturday with a low potential for urban corridors potential to touch 105 degrees. The heat will culminate in a period of thunderstorms Sunday afternoon or evening.
The general rule of thumb for this Warning is when the maximum heat index temperature is expected to be 105° or higher for at least two days and night time air temperatures will not drop below 75°; however, these criteria vary across the country, especially for areas not used to extreme heat conditions. If you don't take precautions immediately when conditions are extreme, you may become seriously ill or even die.
NWS Detroit warns those who have outdoor activities to be use caution and be prepared.
Outdoors:  Limit strenuous outdoor activities, find shad and stay hydrated. Drink   plenty of water and avoid alcoholic/caffeinated fluids. Spend more time in air  conditioned places. Don't get too much sun.
Indoors:    Check up on the elderly sick and those without AC.
Job Sites:  Stay hydrated and take breaks in the shad as often as possible.
Vehicles:  Never leave kids or pets unattended. Look before you lock.
PETS:
Limit exercise on hot days
Take care when exercising your pet. Adjust intensity and duration of exercise in accordance with the temperature. On very hot days, limit exercise to early morning or evening hours, and be especially careful with pets with white-colored ears, who are more susceptible to skin cancer, and short-nosed pets, who typically have difficulty breathing. Asphalt gets very hot and can burn your pet's paws. Walk your dog on the grass if possible. Always carry water with you to keep your dog from dehydrating.
Don't rely on a fan
Pets respond differently to heat than humans do. (Dogs, for instance, sweat primarily through their feet.) And fans don't cool off pets as effectively as they do people.
Provide ample shade and water
Any time your pet is outside, make sure they have protection from heat and sun and plenty of fresh, cold water. In heat waves, add ice to water when possible. Tree shade and tarps are ideal because they don't obstruct air flow. A doghouse does not provide relief from heat—in fact, it makes it worse. your pet inside and out. And always provide water, whether your pets are inside or out with you.
Prepare for power outages
Plymouth Voice.