Local florist takes top honor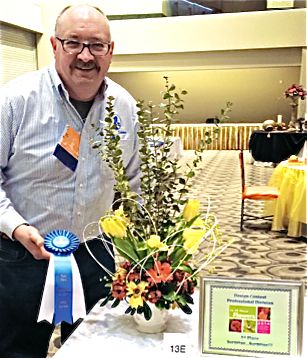 Victor West of Plymouth displays his first-place winning floral arrangement
Mar. 28, 2014  PLYMOUTH EAGLE.
Surprise win   
When the results of the "Surprise Surprise" category were announced at the Great Lakes Floral Expo two weeks ago, Victor West was one of the most 'surprised" members of the crowd to learn he was named the first-place winner.
Many of his peers, he said, will also be surprised to find out that the guy they have been seeking business and financial advice from for years is also an award- winning floral designer.
West and his wife, Jill, are the owners of Vanessa's Flowers on Ann Arbor Road in Plymouth, a shop they purchased about 22 years ago. With West's background in finance and production along with his accounting and business education, they worked to modernize the shop which is known for being progressive in both design and business practices. Vanessa's was one of the first small shops to introduce computers into the floral industry and it is a beta or test shop for Teleflora shop software. West's business expertise helped move Vanessa's into the top 500 of the Teleflora 16,000 shop membership.
Fellow floral shop owners have been coming to West for years, he said, for advice as he is known as a "numbers guy" and helping other shop owners to understand the business side of the industry.
"Most of my peers had no clue that I even could design, let alone well enough to win a competition of this caliber," West said.
After years of "encouragement" from friends and family members who knew of his skill, West reluctantly agreed this year to enter the professional design competition. He usually attends the annual convention sanctioned by the Michigan Floral Association, to participate in net-working with vendors and to talk with other florists around the state.
"My main focus in attending has always been for the educational aspects, the business and marketing information and to learn new and different ways to make Vanessa's better," he said.
After much prodding, he entered two of the four design categories at the Devos Center in Grand Rapids. "The two that required not as much pre-event preparation, but the two when you needed to show up and participate," he said with a smile.
"We were each given a bucket of flowers, some containers and 20 minutes in which to complete each arrangement," West said.
The awards were not announced until the Saturday night banquet and West admitted that he was disappointed when the second and third place winners were announced.
"I had hoped to at least place," he said. "Then the big surprise came and I won." West shouldn't have been quite so surprised, as he has been a Certified Florist since 2004, one of the first to earn the designation when the program began.
West wasn't eligible for the Designer of the Year award this year as he entered only two or the four necessary competitions.
He said he really doesn't expect to compete again, despite his pleasure at the honor. "I hope to find a way for the ladies who work for me to compete. They are both more talented designers than I and deserve the opportunity to show off their abilities," West said. Maybe so, but he could always surprise everyone again next year.
|News Plymouth Michigan
Plymouth Voice