Local editors terminated after AOL sells Patch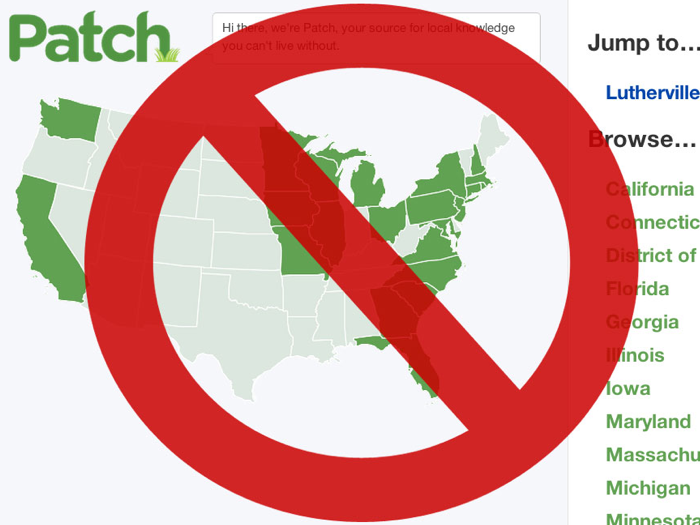 Listen as AOL Chief Operating Officer, Leigh Zarelli Lewis fires the majority of PATCH editors with a one-minute telephone call.
Jan, 31, 2014  PLYMOUTH VOICE.
UPDATED
Most of the PATCH journalist from it's over 900 local sites were terminated this Wednesday, just two weeks after AOL turned over its majority ownership to Hale Global in a joint venture, according to Fox Business.
Employees were informed with a conference call. A transcript of the call from Patch COO, Leigh Zarelli Lewis, read: "Unfortunately, your role has been eliminated and you will no longer have a role at Patch and today will be your last day of employment with the company. …Thank you again and best of luck."
An internal memo sent to PATCH employees from AOL says the layoffs are required because "Patch's' open platform design will reduce the required level of employee support." The memo also stated "All sites will remain open."
The report went on to say Patch would produce less original (local) content and aggregate news from other news outlets. Informed sources say it's unlikely Patch will be able to hold onto their current readers without editors.
Last year AOL tried to sell Patch and had conversations with Gannett and Tribune, but after negotiation stalled they closed or partnered 400 sites. Investors say, despite drastic cuts Patch sites have never made any money for AOL and were the source of considerable shareholder unrest.
Patch was launched in 2007 and bought by AOL in 2009 who established hundreds of local websites across the U.S, like the ones that covered Plymouth-Canton, Novi and others in southeast Michigan. The web-only news coverage in the individual communities was based on the support of on-line advertising.
It was reported in a review of Patch sites many were running content from third-party sites that had little, if any, local angles.
Former Patch employees will receive a minimum of two months pay.
|News Plymouth Michigan
Plymouth Voice