Late week storm to bring strong winds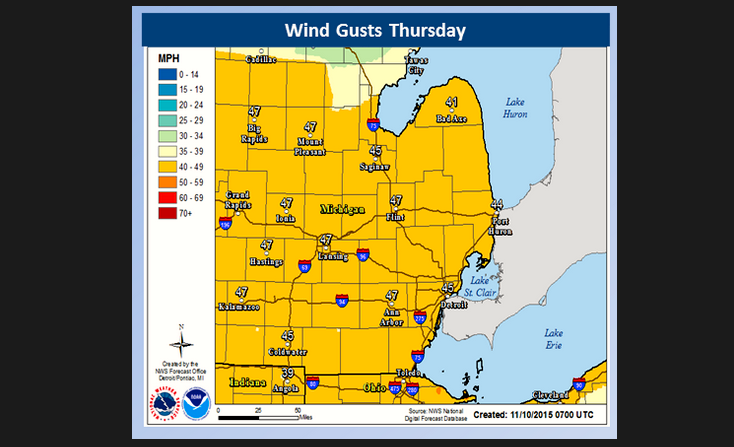 Nov. 11, 2015  PLYMOUTH VOICE.
Plymouth Michigan News
A storm system will bring strong winds to Southeast Michigan on Thursday. Gusts may potentially develop winds between 50 and 60 mph during the day.
The National Weather Service office in White Lake has issued a high wind warning that is in effect from 6 a.m. to 10 p.m. EST Thursday.
HAZARDOUS WEATHER…  
* WEST WIND GUSTS WILL REACH 50 TO 60 MPH THURSDAY MORNING THROUGH EARLY THURSDAY EVENING.
* THE MOST PROBABLE TIME PERIODS FOR THE STRONGEST WINDS WILL BE   BETWEEN 6 AM AND 10 AM…AND THEN AGAIN BETWEEN 3 PM AND 9 PM. IMPACTS…
* MULTIPLE HOURS OF 50 TO 60 MPH WIND GUSTS COULD RESULT IN CONSIDERABLE    TREE AND POWERLINE DAMAGE.
* DRIVING WILL BECOME DANGEROUS…ESPECIALLY FOR HIGH PROFILE   VEHICLES ALONG NORTH TO SOUTH ROADWAYS.
* SOME STRUCTURAL DAMAGE WILL BE POSSIBLE.
Strong west wind gusts up to 60 mph are possible from Thursday morning and continuing through the afternoon. Conditions south of I-69 will be more pronounced.
Expect falling tree limbs, scattered power outages, loose object blown around and driving difficulties, especially high profile vehicles on north-south roads.
Gusty conditions will continue through Friday.
Plymouth Voice.