Lack of fire millage vote questioned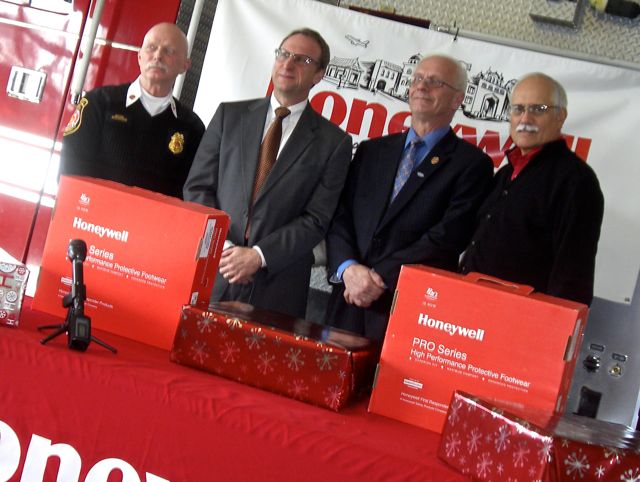 Plymouth Township Fire Chief Mark Wendell  accepts donation of boots from Honeywell. (L to R) Wendell,  Fernando Gomez, Vice President Honeywell,  Congressman Kerry Bentivolio, 11th District Michigan, Township Supervisor Richard Reaume, last December in Plymouth.
Aug. 18, 2014  PLYMOUTH EAGLE.
Plymouth Michigan News
By:  Don Howard
Staff Writer
"Edwards spelled out that he
 was specifically looking for
 a one-year millage to cover these costs"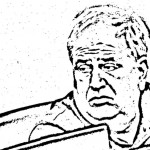 At least one township resident is questioning the word of Township Treasurer Ron Edwards whom she claims failed to place a promised millage to fund fire department equipment on the ballot last week.
Sandy Groth of Plymouth Concerned Citizens, a grassroots community activist group, said township officials need to get their priorities in order and ensure the safety of residents. Groth said there has not been a major fire department equipment purchase since 2000, despite promises from officials to replace the worn and outdated fire engines and ambulances. She sent out an urgent message last week to hundreds of homeowners and subdivision representatives asking for them to immediately contact the township officials and trustees and "demand they place the issue on the ballot."
Citing a statement made by Edwards during a monthly board meeting last November assuring residents a fire millage question would be on the Aug. 5, 2014 ballot, Groth said officials not only missed the deadline to submit ballot wording to the county clerk for certification, but also missed the deadline for the upcoming November election ballot.
"Edwards spelled out that he was specifically looking for a one-year millage to cover these costs." Groth, a former deputy township clerk, said. Edwards, however, denied any such promise. In an emailed response to Sybil Hunter, a resident who followed Groth's suggestion and contacted township officials last Thursday to ask about the issue, Edwards claimed there was some discussion about a millage but no board action.
"At the Nov. 13th board of trustees meeting there was discussion about a one-year mill- age to buy fire equipment. The millage was to last one year. It was never approved by the board. There was no talk of proposing an additional fire service millage to the best of my knowledge," Edwards wrote in an emailed response to Hunter's question.
A review of the videotape recordings of the meeting reveal Edwards telling Trustee Chuck Curmi there will be a fire services millage question on the August, 2014 ballot and explaining the procedure of millages and deadlines. No motion was subsequently made by any board member to place the question on the ballot and no vote on the millage question took place at the Nov. 13 meeting on the tapes. Edwards stated at that meeting, "Our proposal (for the fire millage) will come before the board in December." There is no record of such an action.
According to Groth, language of any ballot proposals for the November General Election, should have been certified by either the county or local clerk and should have been forwarded to the Wayne County Clerk before Aug. 12. She said there is a long lead time required to develop specifications, load requirements, hydrant coverage, styles, equipment characteristics and other details required to build a fire engine or ambulance after the expense is approved. She said those specifications could add weeks if not months to the six to nine months already required to build such equipment after a supplier is selected and the order submitted. Groth is the wife of former Plymouth Township Fire Chief Larry Groth.
"It was not discussed at the last meeting, nor was there a draft of the appropriate language written with the help of legal counsel and now it won't happen." Groth said, listing the appropriate Michigan law reference number in the bulletin she sent.
"This is another example of our elected officials failing to meet the promises they have made…Maybe they will decide to sell more bonds to cover these costs, too," she said, referring to the $1.9 million in bonds the township sold to fund the new amphitheater and recreation facilities, a controversial plan that has sparked citizen protests.
"What is more important to you," the bulletin read, "building the pavilion and amphitheater against tremendous citizen outrage or getting the funding in place for much- needed fire equipment?"
Plymouth Voice.