Joint fire department receives grant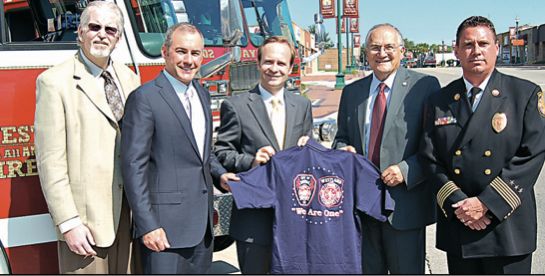 Nov. 1, 2012  PLYMOUTH EAGLE.
A state of Michigan grant will pay for nearly $800,000 in improvements and equipment for the newly combined Wayne-Westland Fire Department.
The communities were notified last week by Gov. Rick Snyder's office that the fire department would receive $791,787 from the competitive Grant Assistance Program. The funds will aid in the merging of the two fire departments.
According to the official report, the communities will use $23,750 for legal fees, a feasibility study and other contracted services. A total of $69,000 will be used for infrastructure and equipment, apparatus identification and licensing. The name changes on all fire stations and other facilities will be paid for with $21,000 of the grant funds.
The Westland IT department will oversee the merging of all operating systems and pertinent equipment along with all information technology at a cost of $109,687. The grant includes $40,000 for training all personnel to ensure that all firefighters are familiar with all the apparatus, systems, policies and directives of the merged departments.
The major portion of the state grant, $528,350, is designed for the purchase of equipment to ensure that all stations and trucks are compatible. New fire hoses, stretchers, air tanks and uniforms are expected to be purchased with the funding.
The state requires the communities to actually make the purchases or investments, and will then reimburse the city within 30 days.