It's official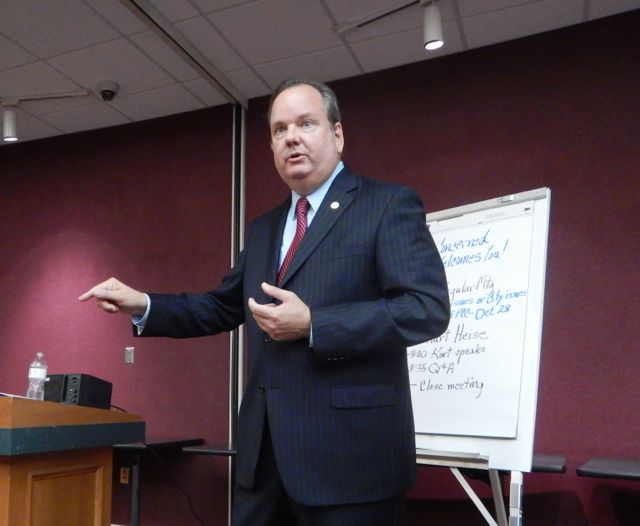 Aug. 9, 2016  PLYMOUTH VOICE.
Plymouth Michigan News
Write-in candidate defeats incumbent supervisor, clerk and treasurer ousted
Kurt Heise is now the official Republican write-in candidate for Plymouth Township Supervisor in the November presidential election after a Tuesday afternoon hearing before the Wayne County Board of Election Canvassers certified all but one of the 3,036 votes for Heise.
In a stunning upset, Heise soundly defeated township Supervisor Shannon Price in the Aug. 2 primary election, garnering strong grassroots support from local residents. Price was only able to obtain 2,333 votes after reportedly spending $150,000 on his campaign. Price's appointment to the job last year was hotly contested by residents and labeled by many as a "fix."  In an effort to keep Heise from the ballot, supporters of Price filed a lawsuit claiming his failure to indicate the precinct in which he votes in the township on his affidavit of identity invalidated his candidacy. They prevailed in court, necessitating the write-in campaign.
The board of canvassers comprises Republican Chairperson Krista Haroutunian, Democrat Vice-president Jonathan Kinloch,  Democrat, Republican Joseph Xuereb and Democrat Betty Smith, Democrat. Xuereb of Canton Township, a long-time vocal supporter of Price was absent from the hearing.
Township Clerk Nancy Conzelman attended the Tuesday meeting at the request of Wayne County Clerk Cathy Garrett to address an irregularity that occurred at township polling location, precinct 7, when 200 counted ballots were left behind in one of the voting machines. That issue was resolved.
A second hearing is scheduled for Aug. 16 to certify all county candidates.
"I'm very pleased with the outcome. It underscores the tremendous support received from the community. I'm looking forward to being the Republican candidate for supervisor in November," Heise, a term-limited Michigan State House representative, said.
Plymouth Voice
Photo: © Don Howard/Associated Newspapers