Goodfellows founder's family continues legacy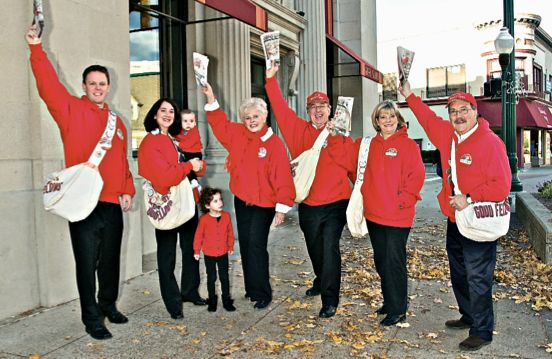 The Brady Family of Plymouth will be maintaining a family legacy when they help sell Goodfellows newspapers Dec. 2 Patrick Brady, left, Audrey Brady, Amelia Brady,in mom's arms, James Brady, Pam Brady, F. J. Brady, Cindy Brady and Goodfellows President Frank Brady are descendants of the founder of the Goodfellows organization. (Photo courtesy of Mark Einhaus)
Dec. 1, 2013  PLYMOUTH EAGLE.
Family tradition
By Jacek Adamski, Special Writer
Helping the Goodfellows is a family tradition for the Brady family of Plymouth.
It was their great uncle, James J. Brady, who started the volunteer effort to ensure there would be "No Child Without A Christmas" almost 100 years ago in Detroit. The late Mr. Brady organized veteran newsboys and girls from the Detroit area in 1914 to sell newspapers and solicit donations for the non-profit all-volunteer group and history was made. A statue in memory of Mr. Brady's altruistic work was erected on Belle Isle many years ago.
Organizers expect that more than 35,000 holiday packages will be distributed throughout the area this year as part of the effort begun nearly a century ago.
The Brady family remains front and center of the charity operation. F. J. Brady, the finance director for Duffy & Petrosky, is a past president of the Goodfellows and his cousin, also named Frank, is president of the metropolitan group this year, keeping up their family legacy of service.
Goodfellows, with their distinctive newspaper bags, will take to the streets of Detroit Dec. 2. looking for donations in exchange for a Goodfellows newspaper. Former Detroit News columnist Pete Waldmeir is the editor of the holiday edition.
Iconic Michigan State Football Coach George Perles has invited the Goodfellows to participate at the Little Caesars Pizza Bowl Dec. 26, at Ford Field. Perles received a Goodfellows package as a youth and later sold newspapers for the charity while a Detroit area coach. He is now a trustee at Michigan State University and Chairman-Emeritus of the Little Caesars Pizza Bowl.
Another storied football coach, Lloyd Carr, of University of Michigan fame, who started his career as an assistant coach at Belleville High School, will make an appearance at the Goodfellows table during the game. "High school football and the Goodfellows have great nostalgia appeal. It reminds everyone of celebrating past excellence," said Carr.
In addition to the holiday packages, the charity also buys hundreds of pairs of new shoes for needy children, subsidizes summer camp tuitions and arranges emergency dental work for youngsters.
The college teams participating in the 2013 Little Caesars Pizza Bowl will be announced Dec. 8.
|News Plymouth Michigan