Girls Night Out in Northville this Friday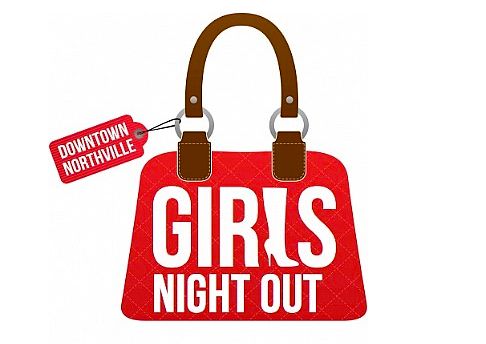 Apr. 26, 2018  PLYMOUTH VOICE.
Plymouth Michigan News
The popular Girls Night Out returns to Downtown Northville on Friday, April 27.
Gather your girlfriends and join the shops and restaurants for a night of new merchandise, special offers, giveaways and fun in Downtown Northville. The businesses are staying open late and preparing a special event for Girls' Night Out. The theme this spring is sweets and treats.
The event starts at 5:00 p.m. with drawings, and discounts at many of the downtown's retail stores. From art galleries to boutiques to home decor and more, there's something for women of all ages and styles.
After experiencing the stores, stop in at one of more than 20 bars and restaurants without ever moving your car. Many restaurants are offering specials just for Girls' Night Out participants.
Participating businesses:
Van Dam's Boutique will be giving away more than $1500 in clothing, and the first 20 ladies will receive a FREE gift.
Dear Prudence will have a party with special discounts and giveaways
Edward's Café & Caterer, in addition to a multitude of sweet dessert samples, will be hosting a Pie Eating Contest outside of the store where chosen male 'townies' will compete and ladies will vote on the winner, with all proceeds donated to a local charity
Orin Jewelers will be your tropical Hawaiian destination this Girls' Night Out and will be serving sweet treats, fruity drinks and delicious sub sandwiches. They will be showcasing an extended collection of their new fashionable jewelry line, Breuning. There will also be contests for your chance to win an Orin Jewelers gift card and fabulous jewelry. Attendees will also have the chance to enter the monthly drawing to win a piece of jewelry as part of their 85th Anniversary celebration.
Studio 170 Salon is introducing their new innovative Hydrafacial, which cleanses and peels, extracts and hydrates, fuses and protects the skin in a 30 min treatment. They will also have a trunk show with Eric Michaels shoes 20% off. Everything in the boutique will be 20% off and there will be $20 grab bags that are filled with over $40 in merchandise.
North Center Brewing Company is offering 10% off on orders for all ladies
The Bees Knees will be giving away "Make your own Sweet Earrings" and have a special flat rate studio fee of $8 for the night
Tuscan Café will be offering a free small coffee with the purchase of a sweet or $1.00 off cappuccinos with the purchase of a sweet.
Starring The Gallery will be participating in their last-ever Girls' Night Out with discounts, giveaways, and a raffle.
Lorla's is offering 10% off all new spring/summer merchandise. They will increase that discount to 20% off if you donate a bra to the Free The Girls charity, or if you are a Club Card Member and bring in your valid Club Card.
Nourish Northville will be participating with fun healthy snacks, meal plan ideas, and they will be hosting a Lululemon Trunk Show from 5-7:00 p.m. Stop in at Nourish to get your VIP trunk show passes starting April 1st.
Northville Yoga Room will have treats, raffles, and a 20% off sale on yoga clothing, and tons of shopping.
Plymouth Voice.