Former GM Vice Chairman signs new book in Plymouth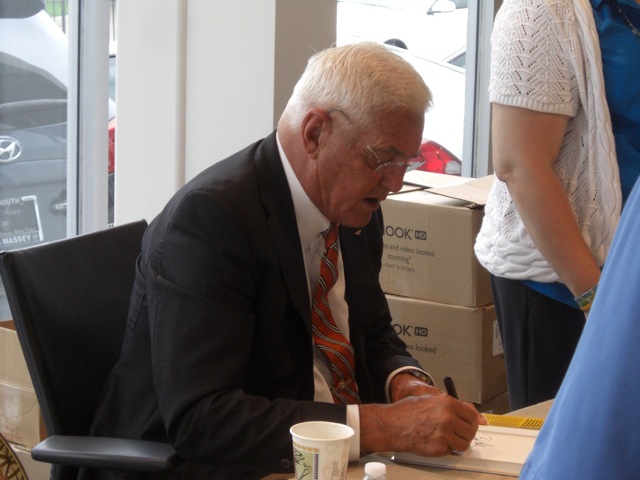 Aug. 6, 2013  PLYMOUTH VOICE. 
Geoff Frampton learned a great deal during his 37 years as a Ford Motor Co. engineer. One of those lessons was always try to think out of the box.
Now part of the sales staff at Don Massey Cadillac in Plymouth, Frampton applied those lessons in an effort to bring people into the dealership last Saturday using a little star power.
Frampton, during various business trips for Ford, would often travel to England, and on one of those trips discovered that an overseas friend, Steve Gallant, was a good friend of the former Vice Chairman of General Motors Bob Lutz.
Frampton approached Massey General Sales Manager Brian Caspersen and suggested they invite Lutz to Plymouth when his new book was released. Casperson quickly agreed and this past weekend, after months of phone calls to England, one of the most respected leaders in the American automobile industry set up shop to autograph his just released book, Icons and Idiots, Straight Talk on Leadership.
During his visit, Lutz talked with numerous clients, customers and employees at the Ann Arbor Road dealership. During his storied career, Lutz worked for BMW, Ford, Chrysler, and Exide.
Lutz, a Marine veteran and pilot who served in Korea, is more than familiar with this area as he is involved with the effort to save the historic Willow-Run Bomber Plant and create a new home for the Yankee Air Museum.
Caspersen and visitors were all smiles as Lutz talked about his career experiences, helicopters and his Czechoslovakian Jet Fighter plane, while he signed copies of his book.
"I think it's important for kids growing up to know what happened in World War II," Lutz said of the effort to save the historic plant.
|News Plymouth Michigan