Firefighters save house from total loss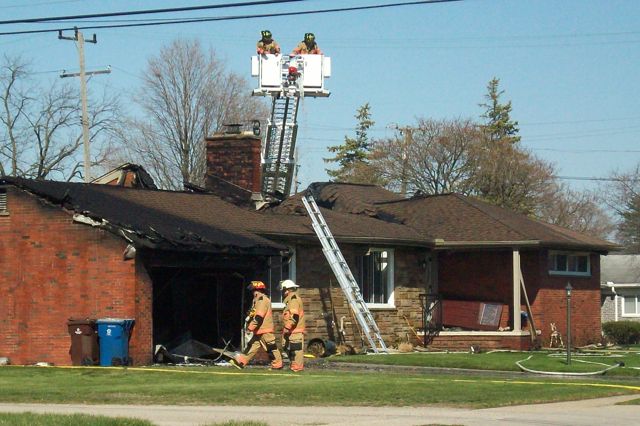 Photo: Special to The Eagle/ Jill Andra Young
Apr. 18, 2016  PLYMOUTH VOICE.
Plymouth Michigan News
There were no injuries in a house fire at 618 Farmer in Plymouth last Saturday, according to officials.
Northville Fire Chief Steve Ott said that the 911 call was received at 2:17 p.m. and that four firefighters and an engine truck were on the scene of the blaze at 2:24 p.m.
Ott said that the cause of fire was ashes from a fire pit that were deposited next to a plastic storage shed located adjacent to a garage. The embers ignited the shed which in turn ignited the attached garage. The fire then spread the attic space of the home.
"The fire didn't actually enter the home, and thankfully there were no injuries" Ott said. He added that damage estimates were incomplete early Monday.
Ott said there were a total of 22 firefighters on the scene, 18 from the Northville Plymouth Fire Department and four from Plymouth Township.
"We had five engines, an aerial ladder truck, one rescue unit and HVA Ambulance was also on the scene."
"We were very appreciative of the support from Plymouth Township," Ott said.
In addition to the four firefighters, Plymouth Township responded with two engines. The township co-operates with Northville-Plymouth Fire Department as part of an automatic mutual aid agreement. Two firefighters and an engine were dispatched from Haggerty Road- Station 1, and two firefighters and an engine were dispatched from Station 3 on Beck Road.
Ott said the open-burning ordinance in Northville and Plymouth is dictated by the National Fire Code and air pollution laws. "Open burning is OK if it's covered," Ott said.
Plymouth Voice.