Firefighter dies in Westland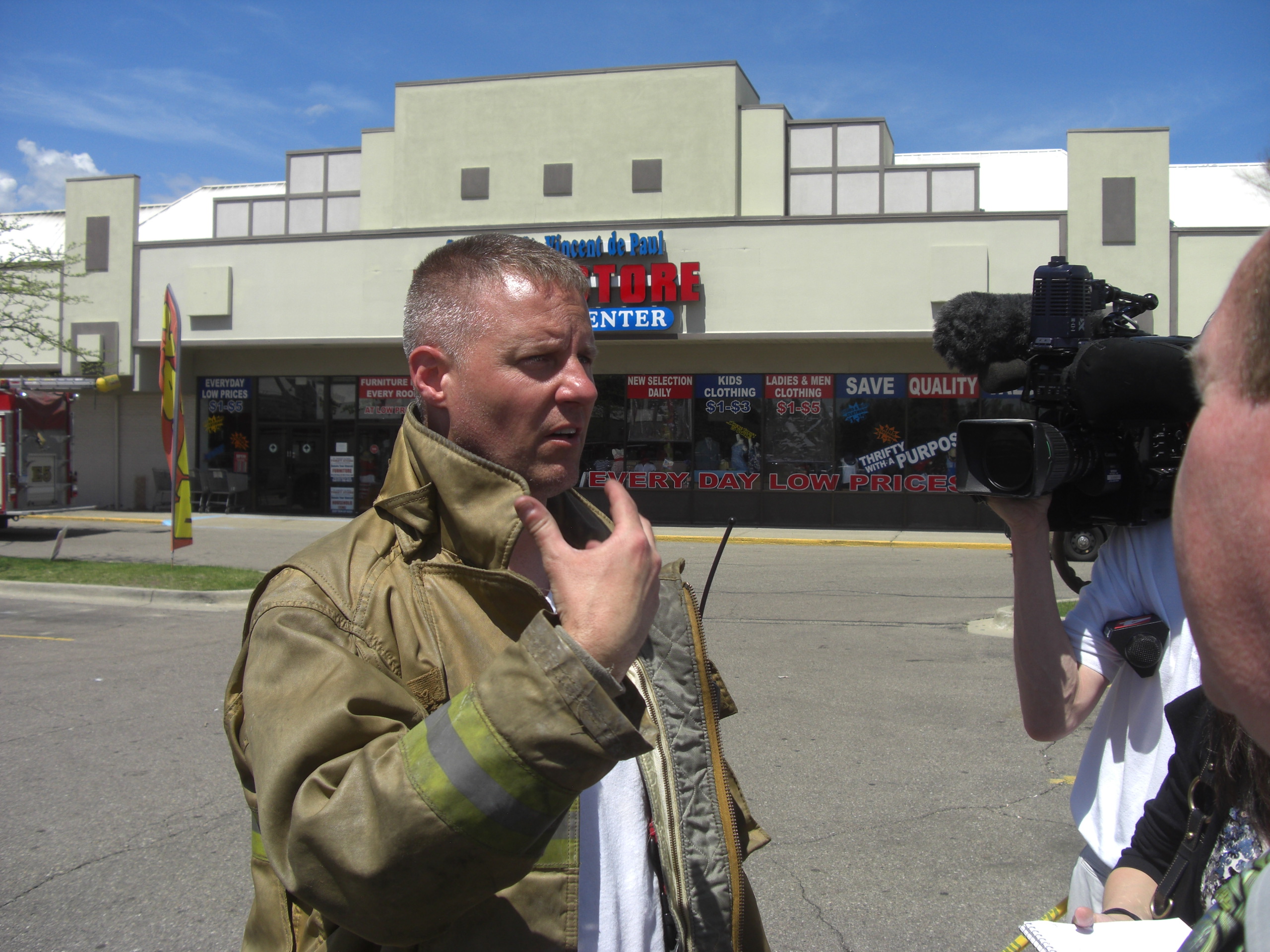 Wayne Westland Fire Department, Deputy Fire Chief, Rob Arbini, addressing the media after finding Woehlke's body in the debris.
May 8, 2013  PLYMOUTH VOICE.
Rescue crews recovered the body of 29 year-old Wayne Westland firefighter, Brian Woehlke, a Dearborn resident who died this morning fighting a fire in a strip mall, in Westland near Wayne and Warren Roads
Woehlke, a Dearborn resident, married and father of one, perished when the roof collapsed at the popular restaurant and pool hall. He was a first responder, on the force for only 10 months, who had entered the burning building. His body was found in the debris.
The following article, written by Bryan Bentley of Plymouth Township, conveys the perception held by many township residents and area fire department professionals that after township officials gutted the Plymouth Community Fire Department last year to a total of only 12 firefighters, the chances of a major catastrophe is a reality; a perfect storm. By contrast, the Wayne-Westland Fire Department has a staff of 81 full time firefighters.
Now is the time to write this. Now is the time to speak my feelings. Not when I have had 24 hours to cool down, but now, when I am still angry. If I wait, my words won't properly reflect my sadness, and my anger.
I have said many times that our firefighters and our police show up when we are having the worst day of our lives, and they do what they can to make things better. They sometimes do these things at the cost of their own lives.
Today a Westland firefighter left home for work, and the odds are pretty good that he won't ever be coming home again.  He answered the call, and it is likely that he lost his life doing just that.
There was a fire this morning at the Electric Stick Pool Hall, and Marvaso's restaurant. Five firefighters went into the blaze, and because of the intensity of the fire they were told to back out. Sadly, only four of them came out.
One Westland firefighter is still missing.
Firefighters from Livonia, Inkster, and Garden City, showed up to help with this fire at Wayne Road just south of Warren.
Plymouth Township wasn't there.
I have not one doubt in my mind that our firefighters in Plymouth Township wanted to be there to help their brothers. I know they did. I know they hurt every bit as much as those on the scene for their lost comrade.
They hurt because every one of them knows that it could have easily been them.
So why wasn't Plymouth Township called upon to help? They only have four firefighters on duty at any one time.  Four.
They only have four firefighters on duty per shift, because there are only 12 full time firefighters protecting the whole damn township!
Why do they only have four firefighters on duty? Because the Plymouth Township Board of Trustees a year ago got rid of half of the damn fire department!
More firefighters went into this building than we have for our whole township!
They had as many fire departments working this fire as we have firefighters on duty right now!
Wake up Plymouth Township residents. You live in a place where a tragedy is going to happen. It's not a matter of if, but a matter of when.
One of our firefighters is going to die because there was not enough help at the scene. A family may die because our firefighters, through no fault of their own, were not able to respond on time to save them.
This is going to happen if something doesn't change.
It happened to a firefighter that works for a city that fully staffs their fire department, so how long do you think it is going to take before it happens in a township that under staffs, and under equips their fire department?
Are you willing to gamble your life, and that of your family living in a township that runs things this way? If my three sons lived here with me, I would move immediately.
Let today be a warning to the Plymouth Township Board of Trustees. If you keep gambling with the lives of Plymouth Township residents, and their firefighters, you will soon have to live with the deaths of one or more people who died because of your neglect of duty.
Firefighters and police are heroes.  They should be given every tool possible to safely do their jobs. Their job is dangerous enough as it is without being nickel and dimed to death on the staffing levels and proper equipment. Today is evidence of that, and my heart goes out to all of those affected by today's tragedy in Westland.
For those of you who will surely say that I used the death of a firefighter to say I told you so, I can assure you that I have a personal stake in what happened today.
Had this fire happened five hours later, my son Brandon would have been working in that building, and those firefighters would have been trying and dying to help save my son on the worst day of my life…
|News Plymouth Michigan