'Debate' draws heated response from city official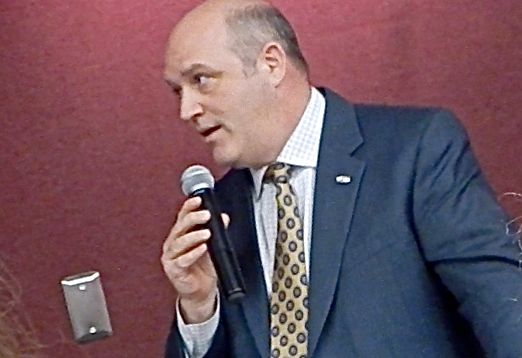 Program speaker Plymouth Township Supervisor Shannon Price
Photo: © Don Howard/Associated Newspapers of Michigan
Feb. 26, 2016  PLYMOUTH VOICE.
Plymouth Michigan News
Don Howard
Staff Writer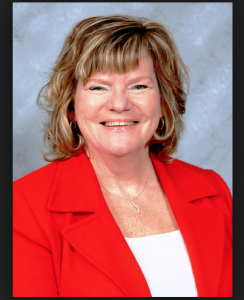 Nearly 70 residents crowded the meeting room at the Plymouth Library last Thursday where a community forum, advertised on social media and purported to be about taxing authorities, special assessment districts (SADs), and downtown development authorities (DDAs), escalated into a somewhat heated debate regarding the Plymouth Arts and Recreation Complex (PARC) and the animosity of township officials toward the city.
Program speakers were Plymouth Township Supervisor Shannon Price and Don Soenen, the philanthropist who is the driving force behind and president of PARC, a project to re-purpose Central Middle School into a multi-use community facility. Price contended last week that the forum, set up by Republican Precinct Delegate Estelle Oliansky, "was not a debate," despite that characterization on some social media sites.
Price appeared somewhat confounded when during the course of the discussion, his comments and assertions regarding acrimony between the city and township were directly challenged by Plymouth City Commissioner Colleen Pobur from the audience.
Plymouth Township officials have been adamant about not participating in the PARC project and the board of trustees, led by Treasurer Ron Edwards, last year agreed to a resolution preventing any involvement with the city until November 2016, after the general election. In 2014, board members also agreed to Edwards' proposed $50,000 in funding for a recreation survey of township residents that has not yet taken place. The township is also in the midst of a $2.5 million controversial recreation plan that has drawn much public criticism and protests from residents.
Pobur, apparently prompted by Price's remarks regarding the city of Plymouth, introduced herself to the audience and Price and challenged Price's repeated comments about the strained city-township relationship.
"The city is not fighting with the township, Mr. Price," Pobur said. "Why don't you make a resolution to abolish that resolution…we are making good progress on the (fire department) legacy costs and I think that's a good example.
"It's a disingenuous thorn in our paw that there's a resolution on the books in the township that says we will not use what's in the higher good for all citizens and work collaboratively with the city," she said emphatically.
Price defended the board resolution saying it was in place before he was appointed.
"You say that was before you came here, but now, you're here…" Pobur responded.
"I don't see where there's a member of the board that would be interested in un-doing a resolution. We're still looking at a long-term solution, we've made a lot of progress but we haven't gotten any commitment…" said Price
"That's not true," Pobur retorted.
"Rather than have a big debate we need to move forward in a positive way as opposed to having to having to go back…there's a lot of animosity and we're trying to keep calm, we're trying to move forward…that's what we're trying to do," Price said in response to Pobur's comments.
The meeting was quickly closed by moderators following the confrontation between Pobur and Price.
The discussion began earlier in the evening with cursory comments by Price regarding the fundamental elements of SADs and DDAs while Soenen, detailed the progress made to restore the downtown Plymouth facility by volunteers, the contributions from citizens and the 3,000 current users who support the arts and recreation complex in the former school building where 14 community groups are now housed.
"We need a facility for the greater Plymouth community that addresses both the arts and recreation needs," explained Soenen. He added that a proposed millage would fund about $20-$25 million in needed structural repairs at the building which was purchased from the school district for about $3.3 million.
Price responded, "PARC is a great idea, but where is the feasibility study?" Price said he wasn't in support of or against PARC, but needed more information. He said the township needs a business plan before officials go to voters for a millage to support the complex, citing a $3.5 million liability caused by the acrimonious split of the city and township fire department. Plymouth Township has since hired former attorney general Mike Cox to attempt to recoup claimed fire department legacy costs.
His remarks regarding the current status of those negotiations with the city apparently triggered Pobur's rebuttals.
Soenen said earlier in the discussion that he favored a team effort between the city, the township, the school district and PARC representatives to conduct a "One Plymouth" arts and recreation survey-needs assessment, in an effort to develop a plan to move forward.
Soenen also said long-term leases and agreements are now generating more than 65 percent of the current operating revenue at PARC but felt the Plymouth community cannot afford two recreational facilities with a combined population of only 36,000 residents.
"We need to get Plymouth Township engaged in this process," Soenen said.
As the discussion became more heated, he suggested that the PARC supporters might simply wait two years before seeking participation from township officials, indicating that "things could change."
"There's no point in me coming back to the township," he told Price. "You know what they're going to do with it (the business plan). We're not going back until this situation really improves, then maybe we'll get somewhere," Soenen said.
"We're doing OK, our operations are just fine." Soenen said as moderators moved to quickly close the meeting following the exchange between Pobur and Price.
Plymouth Voice.