Construction problem with pavilion causes alarm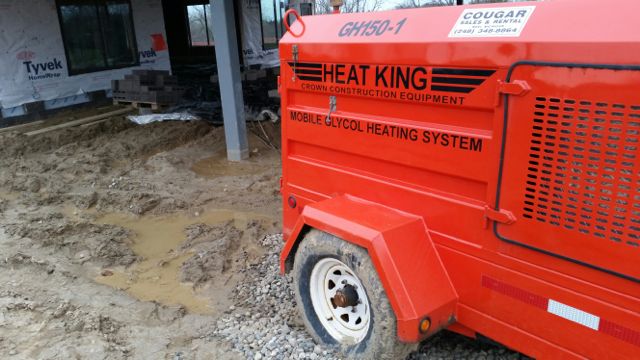 Glycol generator system with runs of tubing covered with tarpaulins has been placed inside to heat the exposed soil.
Apr. 14, 2015  PLYMOUTH VOICE.
Plymouth Michigan News
Updated
Concerned residents, many with property neighboring McClumpha Park in Plymouth Township, have expressed concern regarding the quality of material and workmanship at the all-weather pavilion currently being constructed in the park.
The residents, many with years of construction trade experience, have questioned the concrete foundation installed by the second-lowest bidder on the project, Acme Enterprises of Roseville. The pavilion project was a hotly-contested issue prompting severe criticism and unfavorable citizen comment during meetings of the board of trustees prior to approval of the project.  Citizens questioned and protested the expense of the pavilion which is part of a $1.5 million recreation plan approved by township trustees.
This week, observers discovered that the interior floor of the main plaza of the pavilion has been demolished and large broken concrete slabs are stacked at the edge of the structure. They say a glycol generator system with strips of tubing that has been covered with tarpaulins has been placed inside to heat the exposed soil. Neighbors with construction experience surmised that the cement was poured this winter when frost covered the ground. The cold temperature created an adverse factor, they said, requiring the breaking up and re-pouring of the concrete. Neighbors speculated that the reason for the inadvisable installation during cold weather may have been an effort to expedite the completion of the structure in time for the July 4 Township Picnic.
Architect-designer firm D.S. Wright and Associates of Plymouth requested bids for construction in July 2014. The planned structure grew from a basic picnic pavilion to a sprawling facility, increasing costs by 750 percent since the project was originally approved by members of the Plymouth Township Board of Trustees. When complete, it will be a 4,500 square foot, one-story structure with a walk-out basement. It will include restrooms, a warming center and a kitchen area with a sink and refrigerator. The $21,820 snow making cannon that is to be installed near the structure arrived in the township last week. Industrial electric and plumbing capacity installations are required to operate the snow machines.
Township Treasurer Ron Edwards is acting as construction manager and was the originator of the project.
Plymouth Voice.