Condominiums, retail space proposed for Center Street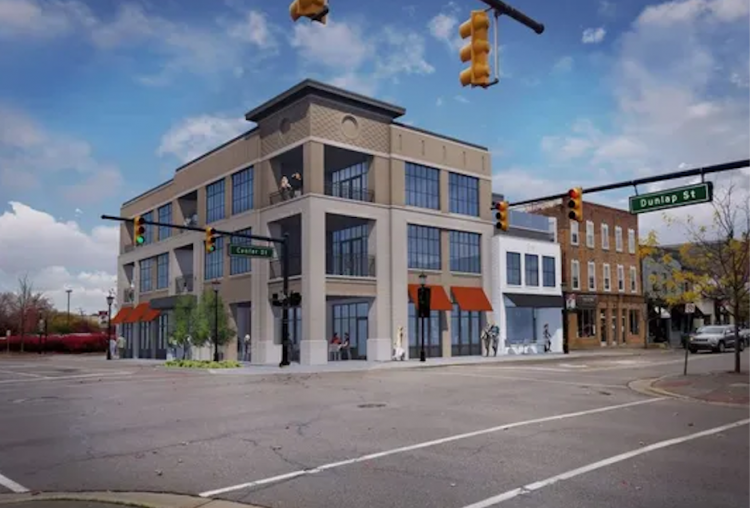 Jun. 18, 2020  PLYMOUTH EAGLE.
Plymouth Michigan News
A developer has proposed a new $3.35 million three-story building along North Center Street in downtown Northville.
The building, as proposed, would be a three-story construction at 156 North Center including a first-floor restaurant and seven condominium units along with a one-story addition to the building which currently houses the Tuscan Café at the corner of Dunlap. Plans for the new building were presented by architect Robert Miller to the members of the Northville Planning Commission earlier this month during an online meeting. Miller was representing the applicant and developer of the project, R. Kurdjian.
Members of the commission expressed some concern with the plans for the con- dominium units, some listed at only 579 and 600 feet respectively. Those sizes do not meet current size restrictions in the city. Miller said those units could be combined with a larger condominium unit in the plan to then meet the ordinance size provisions.
Commission members were also concerned with the number of parking spaces in the plan and the lack of a main entry door facing North Center Street. The plan now shows the main door facing Dunlap.
According to Miller, Kurdjian will pursue 10.8 parking credits and locate a load- ing space behind the building. Miller said Kurdjian would work with the Downtown Development Authority on improvements to the entryway driveway and the loading zone.
The structure is in the city historic district and would require demolition of the addition at the rear of the Tuscan Café. It is at the site of the former city Opera House and the plans, according to Miller, contain design elements that reflect the former building.
Members of the commission agreed to schedule a public hearing on the project as the upper story residential units require a Special Land Use permit.
Plymouth Voice.