Community Bulletin Board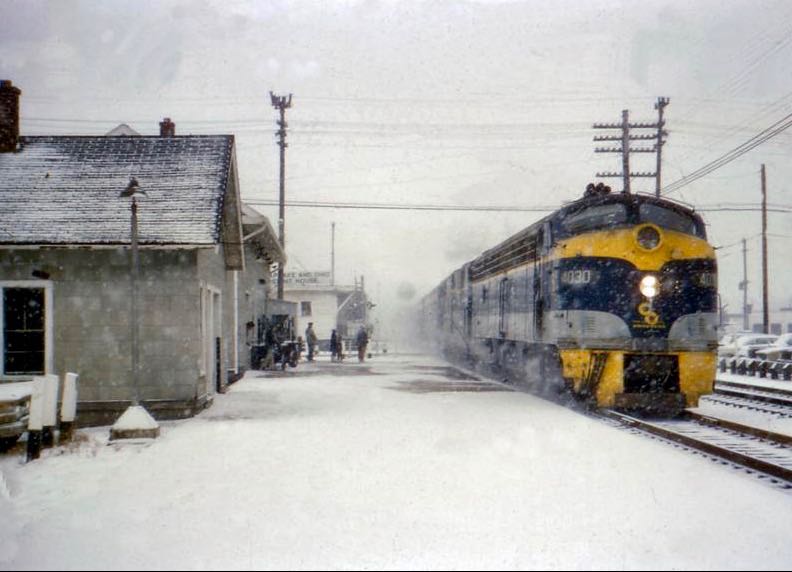 Chesapeake & Ohio passenger train leaves Plymouth Depot-Starkweather and Pearl, 1960.
Feb. 9, 2018  PLYMOUTH VOICE.
Plymouth Michigan News
Plymouth Township snow policy statement
The Township does not plow streets; this is the responsibility of Wayne County Roads or your own Homeowner's Association by private contract.
The Township only salts sidewalks and pathways on township-owned property; Wayne County Roads salts major streets.
Residents and businesses must remove snow and ice from their adjacent sidewalks within 24 hours of a snow or ice event or be subject to an ordinance violation.
Plymouth Township does not issue "Snow Emergencies," but if you hear of one on TV or radio, please be considerate and move your vehicle off the street so County or contracted snow plows can do their job.
ArtCrush tickets available
ArtCrush, a fundraising event to benefit the Northville Art House is planned from 7- 10 p.m. Saturday, Feb. 10 at Cantoro Italian Market.
Proceeds will be used to support the mission of the Northville Art House to bring art to the community through free monthly exhibits, an artist store, adult and children's art classes and workshops and outreach programs in the schools.
The evening will include appetizers and an open bar along with a creative project lead by Maria Latour, an art instructor at the art house. There will be live music by jazz and blues pianist Jarrod Champion.
Tickets, priced at $60 per person, will be on sale until Feb. 4 at the Northville Art House store.
Sponsors of the event are The Knickerbocker Group of Raymond James and Bandoni Creative, LLC.
Senior events at the Friendship Station
Funtastic Friday – Pizza and Games – Join in for a fun day of games, pizza, and friendship. Friday, February 9th, 12:00 noon at the Friendship Station, 42375 Schoolcraft Road. $1 at the door.
Sweet Endings Valentine Party – – Entertainment by Balancing Earth. Sweets will be provided by the Chef at Independence Village. Thursday, February 15th at 1:30pm at the Friendship Station. Tickets: $4/PCCA Members; $6/Non-members
Spelling Hangman – Come to this fun, free get together to play hangman – just for fun! Friday, February 23rd, 1:00 pm.   Refreshments and raffles – Tanya Lukomski from Heartland will host this event. RSVP to 734-354-3222 or sign up at the Friendship Station.
Blues at The Elks set
Blues @ The Elks takes place from 7- 10 p.m. the second Tuesday of the month at the Plymouth Ann Arbor Elks Lodge #325 in partnership with the Detroit Blues Society (www.detroitbluessociety.org). There is a $5 donation at the door.
Big Ray & the Motor City Kings will entertain Feb. 13.
The band performs Motown, Blues, Rockabilly and everything in between. Big Ray Haywood on sax and vocals, Davey Fender on guitar, Mike Rupprecht on keyboard and vocals, Joel Warren on drums, and Brian Gatten on bass and vocals.
The Plymouth Ann Arbor Elks Lodge 325 is located at 41700 Ann Arbor Road, Plymouth MI. For more information, call (734) 453-1780 or visit www.plyaa325.com or email jazzattheelks@gmail.com.
Art House exhibits comic book works
The Northville Art House will present POW! Juried Comic Art Exhibition featuring 38 works of comic, or comic-inspired, art created by 22 artists and selected by juror, Jim Anderson from Feb. 2 through Feb. 24.
Comic art can be defined as an image or series of images, often displayed together and combined with text, to tell a story. Comic art also functions as an avenue for visual experimentation and modes of self-expression for many artists, a spokesman said.
Artists participating in the exhibition include Elisa Albrecht, Kathleen Brenowitz, Joanne Cook, Terence Cover, Adrienne Dunkerley, Kayleigh Fogle, Shayauna Glover, Adam Helner, Jessica Justice, Peggy Kerwan, Jennifer Kesler, Travis Matchulat, Brandon McDonald, Mike Ortiz, Megan Roethler, Jan Ross, Shannon Schmidt, Billy Tackett, Aaron Underwood, Babelon Williams, Todd Zapoli, and Emily Zelasko.
Anderson has been a fan of comics since he was small, and has been making them for almost as long. He is currently the creator of the comic strip Ellie On Planet X, as well as an illustrator and graphic designer. More information about Jim Anderson and Ellie on Planet X is available at ellieonplanetx.com.
Fireman's Ball tickets on sale
The Northville Township Firefighters Charity Fund will host the 15th Annual Fireman's Ball from 6 p.m. until midnight Saturday, Feb. 17 at Laurel Manor, 39000 Schoolcraft Road in Livonia.
Tickets are priced at $100 per person and include dinner, drinks, and dancing to live music from the Killer Flamingos.
There will also be a raffle, silent and live auctions during the evening.
To purchase tickets, become a sponsor or to donate, contact (734) 219-3961 or visit www.NTFFcharityFund.com.
Golf Course review committee meets
The Plymouth Township Hilltop Golf Course Study Committee will meet on Tuesday, Feb. 20th at 7:00 p.m. at the golf course clubhouse along with representatives of the course management company.
The seven-member study committees is charged with determining whether the golf course can reverse financial losses and remain open or whether it should be closed and what would be suitable uses for the land. The committee is expected to examine the township's relationship with management company Billy Casper Golf, Inc.
The committee held their first meeting on Feb. 6th. The Feb. 20 meeting and all the committee meetings are open to the public. The tentative schedule for future meetings of the committee is as follows: Mar. 6, Mar. 20, Apr. 3, Apr. 17, and May 1.
With the exception of the Feb. 20 meeting all the meetings will begin at 7:00 pm and be held at the Township Hall.
Survey deadline extended
As part of the joint Plymouth City/Township Recreation Master Plan, the State of Michigan requires input from individuals and groups who are users of the recreation services.
Local officials have distributed a questionnaire, which can be accessed at http://www.ci.plymouth.mi.us/FormCenter /Recreation-6/Recreation-Master-Plan- Questionnaire-64.
The questionnaire will allow respondents to share their thoughts about parks and recreation in the city and township. The response deadline has been extended to Feb. 18.
Plymouth Voice.