City, township OK joint art authority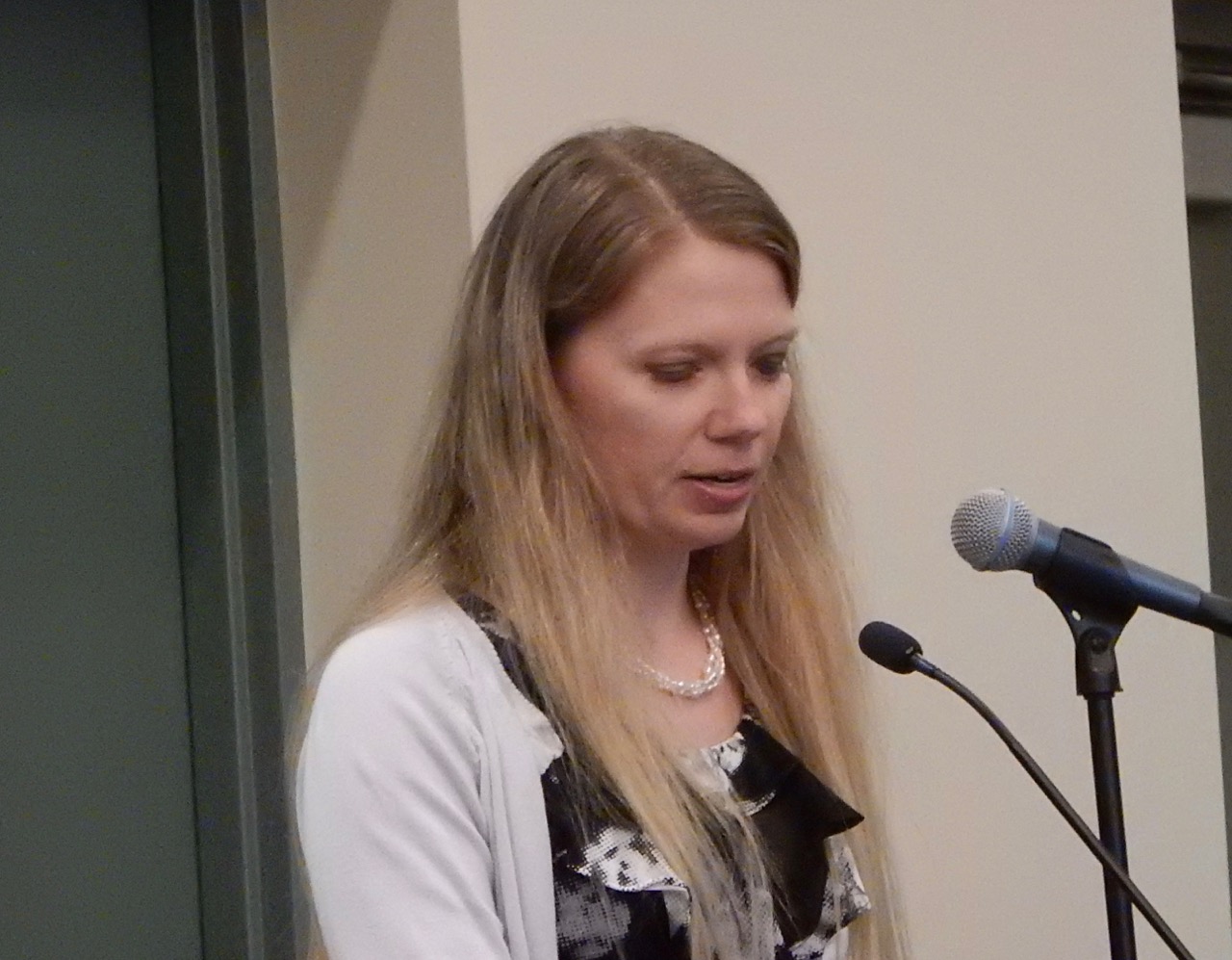 Plymouth Township resident and PARC critic Mary Weidel has been vocal with her oppostion
Jun. 26, 2018  PLYMOUTH EAGLE.
Plymouth Michigan News
"This board will not be making the case for PARC"
Don Howard
Staff Writer
Despite the strong opposition voiced by residents in attendance at the Plymouth Township Board of Trustees meeting last week, the Plymouth Area Recreational Authority (PARA) was approved.
Once enacted, PARA will allow a millage referendum vote in both the city and township that, if approved by voters, will fund the Plymouth Arts and Recreation Complex (PARC) project.
Board members authorized a resolution approving the adoption of PARA by a majority vote. Trustee Jack Dempsey was granted permission to abstain as his law firm represents PARC on certain matters and he wanted to avoid any possible conflict of interest.
Trustee Chuck Curmi who voted yes on the authority resolution said part of his campaign promise at the last election was to honor the wishes of the voters and allow them to vote their choice, for or against the PARC project.
The Authority, permissible under Michigan law, establishes a public body corporation that will serve both the City of Plymouth and Plymouth Township. The approval of PARA authority was expected to go before the members of the Plymouth City Commission at their meeting Monday. The PARA board, when established, will consist of three members from the city and four members from the township who will have the authority to issue ballot initiatives for bonds.
PARC President Don Soenen expressed his concern about what he described as an abundance of "blatant misinformation" regarding the project which will include renovations and upgrades at the former Central Middle School in downtown Plymouth and the construction of an 800-seat performing arts theater on the 16-acre site.
While not mentioning her by name, Soenen was obviously irritated by comments made on social media by former Township Clerk Nancy Conzelman. Just prior to the Tuesday board meeting last week, a general letter was distributed to media outlets by a Sandra Curtis plagiarizing much of Conzelman's verbiage previously posted on social media. The letter urged residents to contact their township officials and "tell them not to vote for this horrible proposal."
"These people can't be allowed to destroy the soul of our community…This board is not making the determination to raise your taxes-they're giving you this opportunity to make the choice," Soenen exclaimed.
"This board will not be making the case for PARC" said Bob Doroshewitz. who at one-time along with his wife worked for the arts and recreation complex.
One concerned resident asked board members why taxpayers should pay for a business venture. PARC Vice President Mark Malcolm and his wife, Patti, donated more that $3.5 million to save the old high school building from destruction. Private donations and additional fundraising are planned to be combined with tax money to complete the 3-year renovation project. Costs are estimated at $30 million, $6 million of which has been raised to date.
Mary Weidel, a township resident, government worker and PARC critic who has attended many of the previous board meetings has been vocal with her opposition. Weidel said she feels the board should have conducted an independent feasibility study to find out the financial viability of building PARC and the proposed theater.
"Where is the due diligence by the government we trust to make the proper and educated decisions on spending $20 million of township residents' money?" she demanded.
To make her point, Weidel compared the time spent on establishing a township citizens advisory committee to study the viability of the township golf course that reportedly loses $100,000 a year.
"Why are we spending so much time on analyzing the township golf course when the board is not conducting any investigation or research on the financial stability and viability of an orchestra hall and the PARC commercial rental facility?" she demanded.
Weidel hammered-on saying township residents deserve to know the facts.
"Mr. Soenen claims to have $6 million in pledges for this project-this is not money in hand-there should be a stipulation that this funding be in hand and turned over before any millage vote goes on the ballot or authority is established," Weidel said.
Weidel compared the Canton smaller 400-seat Village Theater as an example of a failed project. The theater constructed in 2003 cost $11 million to build. She stated Canton is losing between $500,000 and $1 million annually on that theater project.
"How can we expect anything different just a few miles away," she said.
"Plymouth city and township residents will soon wake up and realize we are being misled by this losing venture and the debt it will cause us all," Weidel said after the meeting.
Plymouth Voice.
Photo © Don Howard / Associated Newspapers