Christmas events in Plymouth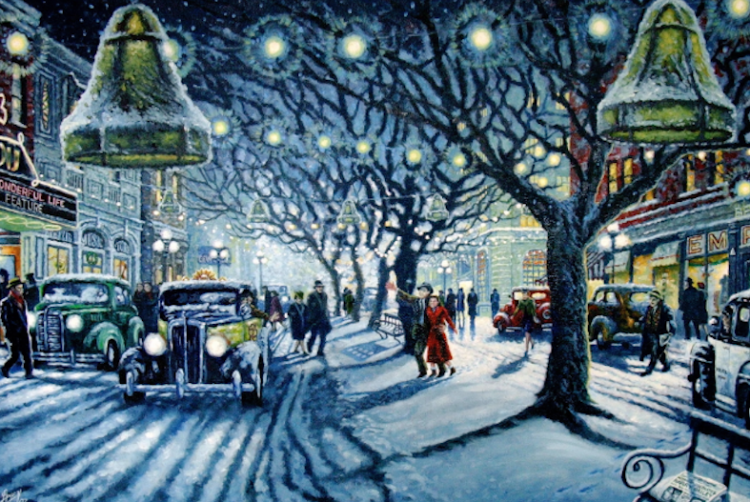 Nov. 26, 2018  PLYMOUTH VOICE.
Plymouth Michigan News
UPDATED
Plymouth provides a small-town celebration straight out of "It's a Wonderful Life."
Plymouth is a unique town, one of the most desirable communities in the country. It's the epitome of an idealized Norman Rockwell community and the Christmas celebration here is nothing short of magical.
Enjoy small town charm with your family and friends during the Christmas season. From the lights, trees, festivals, concerts, great shopping and restaurants, carriage rides, caroling, music and of course Santa an his elves will make the Holiday season come alive.
There's no shortage of fun events in Plymouth.
Official tree lighting is set
The annual Holiday Tree Lighting Celebration in Canton Township will take place beginning at 6 p.m. on Wednesday, Dec. 5, at the Summit on the Park, located at 46000 Summit Parkway in Canton.
The free festivities will continue until about 8:30 p.m., as Santa and his reindeer make a special stop in Canton. Visitors can enjoy holiday carols, watch Santa's arrival, and countdown to the official lighting of the tree, which will take place outside the Summit Banquet Center entrance. Additional outside activities include up-close and personal visits with live reindeer, as well as ice sculpting demonstrations. Visitors are encouraged to dress warmly and bring the family to this fun, festive event which will take place outside.
Indoor activities for children include: free henna, seasonal crafts areas, and pictures with Santa. Light refreshments  will also be provided inside by Busch's Fresh Food Market. Additional indoor activities include 'Holidays Around the World,' where children can learn about special traditions and festivities celebrated in a variety of different countries. Live entertainment will be on hand to perform holiday tunes, including Dodson Elementary School Choir. In addition, children's entertainer Guy Louis will be performing interactive multicultural holiday songs, thanks to the generous support of the Michigan Humanities Council.
Alexis Lubecki, Miss Michigan Teen USA 2019 and Canton resident, will also be making a special appearance during the event.
This year, the event is sponsored, in
part, by American 1 Credit Union; Financial; Glen Abbey; The Goddard Atchinson Ford; Busch's Fresh Food School for Early Childhood Market; Canton Sweetwaters Coffee and Development; TIAA Bank and Today's Tea; Central City Dance; Community Ortho.
For more information about this free event, or other upcoming holiday events at the Summit on the Park, visit www.cantonfun.org or call (734) 394-5460.
Santa mailbox at Summit
Canton Leisure Services has made special arrangements with the U.S. Post Office to deliver children's wish lists to Santa.
To mail a letter to Santa, drop it in the North Pole Express Mailbox in the Summit on the Park lobby through Nov. 30. Santa asks that children print their name and address clearly so he may reply to your letter.
Each household will receive a return letter and Santa will take care of the postage. Canton residents only please. For more information, call (734) 394- 5460.
Christmas in Plymouth celebrated
The Plymouth Downtown Development Authority will present Christmas in Plymouth from 5-9 p.m. Thursday, Dec. 6 throughout the downtown area.
There will be holiday shopping sales, horse and carriage tours, live music and dance, live reindeer and elves, ice carving, bonfire stations, a mistletoe market and a community sing at 8:30 p.m.
Carriage tour tickets are presale only and will be available Nov. 30 at Sun and Snow, (734)927-0007, ext. 3.
Seniors celebrate holiday
Tickets are on sale now at the Friendship Center for the annual Senior Center Christmas Celebration set for Dec. 14.
Christmas is by far the largest and most popular event of the year, organizers said and seniors can enjoy great food, a wonderful band, and a great time together to celebrate the season. Tickets are priced at $10 for members or $15 for resident non- members.
For more information on reserving a table or purchasing tickets, call (734) 722- 7628.
Maybury Farm hosts Santa
Maybury Farm will be offering free visits with Santa and a Holiday Open House in December.
Santa will be on hand at the farm from 10 a.m. until 5 p.m. on Saturday and Sunday, Dec. 8 and 9 and again at the same times on Dec. 15 and 16.
The free admission includes visits to the farm grounds and barns to see the animals, all with their winter coats getting ready for the cold months ahead.
The General Store at the farm will be open and stocked with gifts and treats including warm cocoa and cider. There will also be a bonfire, activities for children and a family photo booth.
Registrants will receive a confirmation email upon registering and a reminder email two days before your visit.
Due to the popularity of this event, reservations for families wanting to visit with Santa are requested. Reservations are available by calling (248) 704-9211. There is no admission charge for this event but donations are appreciated to help with educational work at Maybury Farm.
More information is available at (248) 704-9211.
Canton Concert Band performs
The Canton Concert Band will present "Making Spirits Bright!"- a special holiday concert for the entire family at The Village Theater at Cherry Hill in Canton at 7 p.m. Saturday, Dec.8.
"Making Spirits Bright!" includes Christmas music by the concert band and singing by the Fireside Singers. The music will include holiday favorites such as: "Selections from The Polar Express", "Somewhere in My Memory", "Sleigh Ride", and many others.
A special visitor will attend the concert; Santa will be in the lobby at 6 p.m. until show time, at intermission, and after the performance. Tickets can be purchased, and printed at home or held in will call, anytime at www.cantonvillagetheater.org at no extra charge. The box office is open from 10 a.m. until 2 p.m. weekdays. Tickets can also be ordered over the phone by calling (734) 394-5300 x3, with a Visa or MasterCard between the hours of 10 a.m. – 2 p.m. weekdays. If tickets are available, they can also be purchased one hour prior to program time.
The Village Theater at Cherry Hill, located at 50400 Cherry Hill Road, Canton. For additional information call (734) 394-5300.
Nifty Fifties exhibit at museum
Christmas has come to the Plymouth Historical Museum with the popular "Nifty Fifties" exhibit. The exhibit high- lights that age of hula-hoops, rock-n-roll and drive-in movies and has now added a "Rock around the Christmas Tree" flavor for visitors to enjoy and appreciate.
There are decorated Christmas trees, wreaths, Christmas lights and other holi- day touches interspersed with the artifacts of long ago.
The exhibit will be open until Dec. 30. Museum hours are 1-4 p.m. Wednesday, Friday, Saturday and Sunday.
The museum is located at 155 South Main St., Plymouth. For more information call (734) 455-8940 x0.
Lightfest is now open
The 25th annual Wayne County Lightfest exhibit on Hines Drive will be open through Dec. 31.
The 5-mile long exhibit is the longest drive-through holiday light display in the Midwest. For a small donation, motorists can enjoy the spectacular light displays. that are sure to inspire the holiday spirit. For specific hours and details, call (734) 261-1990.
Plymouth Voice.