Chief says police staffing is 'dangerous'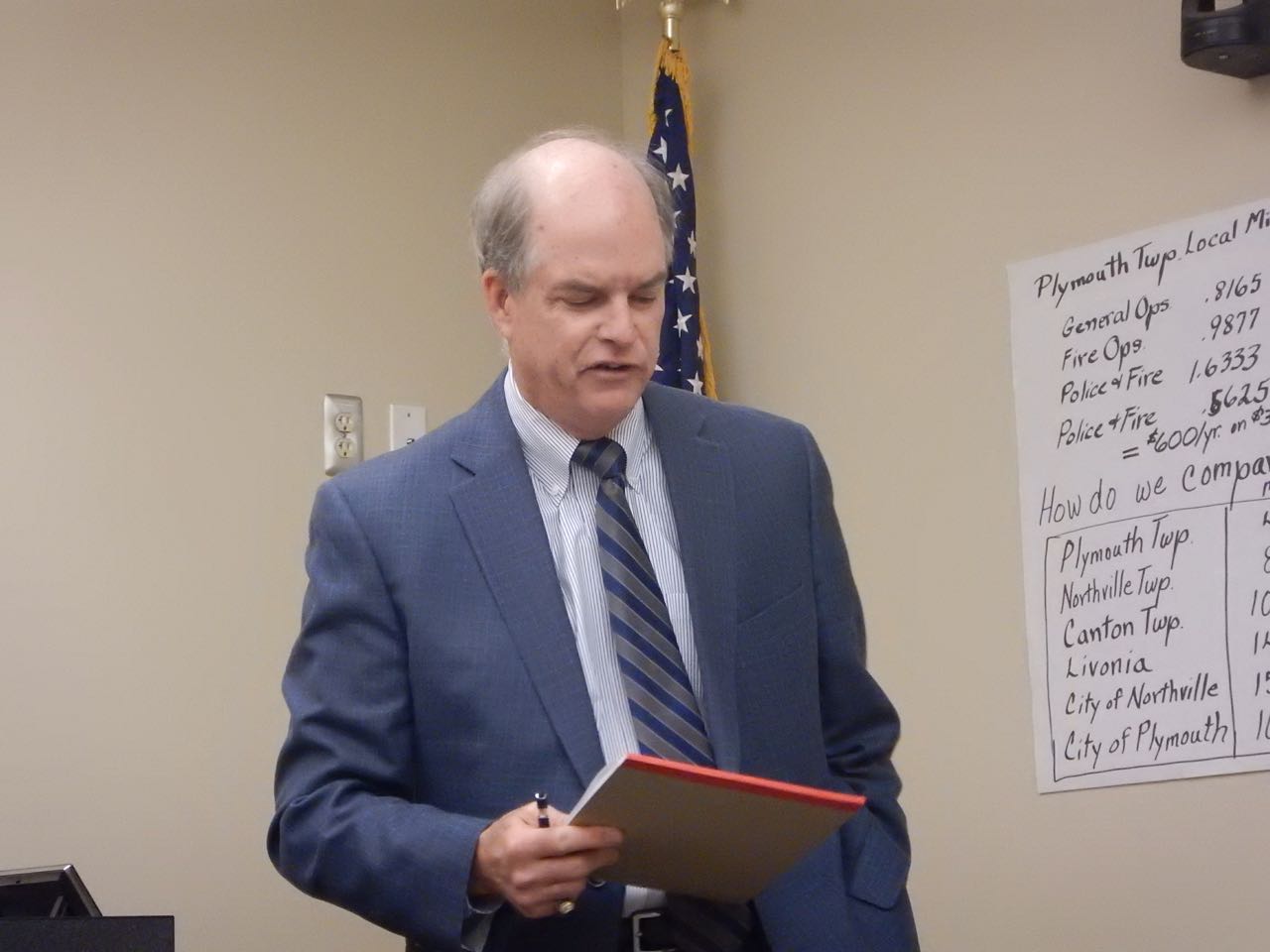 Jun. 28, 2017  PLYMOUTH EAGLE.
Plymouth Michigan News
"Sometimes there's only two officers on duty."
Don Howard
Staff Writer
Plymouth Township Police Chief Tom Tiderington shocked some audience members at a Plymouth Concerned Citizens meeting last week when he revealed there are times when township police staffing may be considered dangerously low.
Tiderington candidly told meeting attendees that at certain times there are only two patrol officers on duty to protect the 28,000 residents, a population figure that swells during the day because of commerce and two major intersecting expressways.
Tiderington and Fire Chief Dan Phillips were the keynote speakers for the bi-monthly meeting of the non-partisan group. The two speakers discussed the public safety vulnerability in the event of a major disaster in the township.
Tiderington detailed the staffing levels for his platoons noting that the national average is 2.3 officers per one thousand residents, which would be a recommended 65 in the township.
"Sometimes there's only two officers on duty," Tiderington told the audience.
According to research data conducted by Michigan State University and published by the United States Department of Justice Office of Community Policing Services there is no standard benchmark to access the appropriate levels for community policing. However, many police departments use a per capita approach to estimate the numbers of officers needed.
The International Association of Police Chiefs recommends 1.8 officers per thousand residents. Their recommendation for a 25,000 to 49,000-population community is 50 officers.
Plymouth Township currently has a force of 30 police officers.
Tiderington said by contrast Canton Township, which is twice as large as Plymouth Township in square miles and population has 100 police officers.
"The board (Board of Trustees) sets the level of service. There's a cost for everything we do. What do you want in your police department? You can't have that (everything). If you're going to have the lowest-tax community in all of Wayne County, you can't have the best police department," Tiderington said.
While many departments use the per capita approach, critics say this is not the best method to determine staffing needs. Some argue there should be a minimum number of officers on duty at all times. Others say staffing should be based on performance objective and workload.
Tiderington said his department is functioning well but priorities dictate the services the department is able to offer. He said he and the department face continued challenges. The department currently has a $4 million annual budget.
"Hiring and retaining police officers is one the department's biggest challenges in Plymouth Township," Tiderington said.
As an example, Tiderington read aloud a letter he had just received from an officer candidate wanting to withdraw his application. He said the man had accepted a job with the Northville Township Police Department because that municipality offers a pension program. Tiderington said he felt that Plymouth Township officials have to figure out a way to recruit and keep the officers.
"We can't fill the vacancies."
Tiderington said he believes in giving his officers advancement opportunities and an example is assigning one of his officers to participate in the DEA Task Force, a program that he said offers an excellent training experience. The program has also yielded millions of dollars for the township that comes directly to the police department, he said.
"I live here. This is a very safe community, but we're not immune to crime. We're never going to be able to staff for every event," the police chief concluded.
Plymouth Voice.
Photo © Don Howard/Associated Newspapers