Canton to honor memory and legacy of Dr. King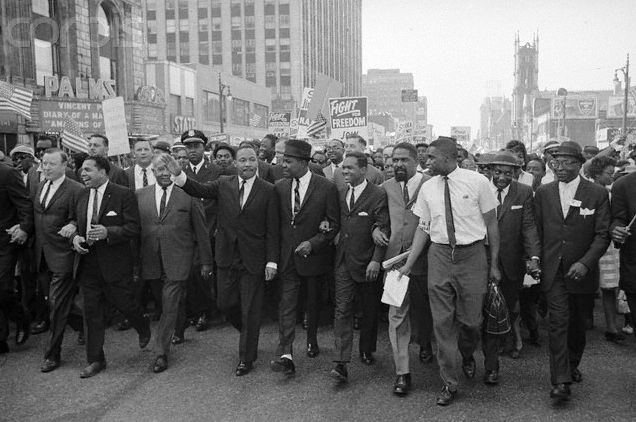 Dr. Martin Luther King Freedom March-Detroit 1963
Jan. 18, 2016  PLYMOUTH EAGLE.
Plymouth Michigan News
In remembrance- Martin Luther King Jr. Day 2016
Canton Township will once again honor the memory and legacy of Dr. Martin Luther King, Jr. with a special tribute at 6:30 p.m. Jan. 18 at The Village Theater at Cherry Hill, located at 50400 Cherry Hill Road.
A display of artworks by area students and a punch and cookie reception will begin at the Village Theater at 6 p.m., followed by the main program at 6:30 p.m. This annual event is presented by the Canton Commission for Culture, Arts, and Heritage, members of the Dr. Martin Luther King, Jr. Sub-Committee, and Canton Township. Admission to this special presentation is $2 and reserved seats can be purchased online at www.cantonvillagetheater.org.
This year will feature a panel discussion of interfaith speakers including Pastor David Washington, Jr., the founding and senior pastor of Canton Christian Fellowship Church; Bill Secrest, a Zan Buddhist, recently retired as the director of the Henry Ford College Religious Studies Program; Chandru Acharya, president of South Asian American Voices for Impact and board member of the Canton Interfaith Community Outreach and teach at Canton Hindu Temple Balgokulam; Saleem Khallid, consultant to the Muslum Enrichment Project, who gives khutbahs and leads prayers throughout metropolitan Detroit, and Paul Talwar, a member of the Canton Interfailth Community Outreach team and teacher at the Gurdwara, who will represent the Sikh community.
The speakers will share the impact Dr. King has had on their lives and the lives of their faith communities. In addition, panelists will comment on the Civil Rights movement and its similarities to today, as well as their strategies for fostering an environment of peace in the community.
The program will also feature music by the Workman Elementary School Choir under the direction of Keri L. Mueller, and dance by Kelsey Rose and Detroit Tap Repertory.
Canton Township Officials John Anthony, Terry Bennett, Phil LaJoy, Melissa McLaughlin, Steven Sneideman and Patrick Williams personally donated the scholarship and award money for winners of the art and essay contests.
Frames for the selected works were generously donated by IKEA Canton last year and will be used every year to feature the student work. The reception is sponsored annually by Darian and Ralynda Moore of Keller Williams Realty of Plymouth.
For more information about this special performance and the latest exhibition in the Gallery@VT, call (734) 394-5300 or visit www.cantonvillagetheater.org
Plymouth Voice.
Photo: Voice of Detroit