Canton resident surprised by lottery ticket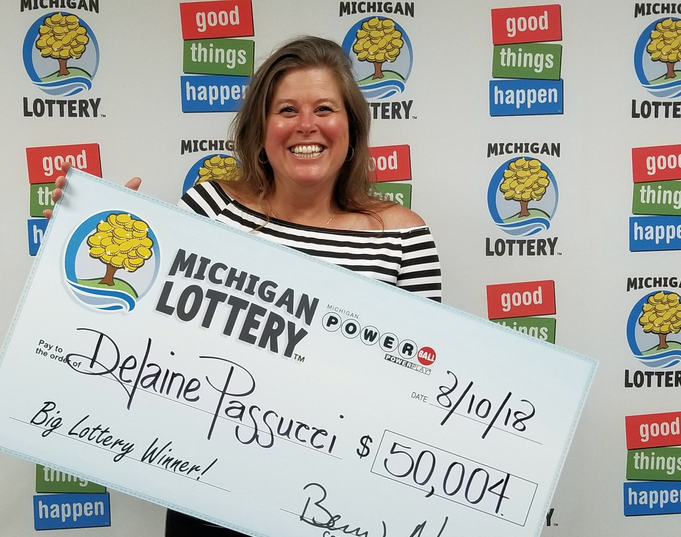 Sep. 6, 2018  PLYMOUTH EAGLE.
Plymouth Michigan News
A Canton Township woman was throwing away a Powerball ticket, but asked a store clerk to scan it first and found she'd won $50,004.
Delaine Passucci, 47, matched the four white balls and the Powerball – 02-18-41- 44-64 PB: 26 – in the July 25 drawing to win the $50,000 prize. Passucci also won an additional $4 on her ticket. She bought her winning ticket at the Kroger store, located at 9700 Chilson Commons Circle in Pinckney.
"I had a few tickets for that Powerball drawing, and the self-scanner wouldn't tell me if it was a winner," said Passucci. "I stuck the ticket back in my wallet and decided I'd try to scan it again later. When I did, the same thing happened so I tucked it away again.
"A couple weeks later I was buying my groceries at Kroger and I stopped at the Lottery counter and scanned it again and again the scanner wouldn't tell me if it was a winner. I was just about to toss it in the garbage, when I decided to have the clerk scan it for me. When she told me I'd have to go to the Lottery office to claim my prize, I realized I'd won too much for the self-scanner to give me a prize amount!"
Passucci visited Lottery headquarters recently to claim her prize. She plans to share her winnings with her church and then save the remainder.
"It's been a roller coaster since I bought this ticket. I went from thinking I had a bad ticket, to thinking I won some money, to finding out I won some real money," Passucci said.
Powerball plays may be purchased for $2 each at Lottery retailers across the state and online at MichiganLottery.com. A "Power Play" option that multiplies non-jackpot prizes by up to 10 times to a maximum of $2 million may be added to any Powerball play for only $1.
The Powerball drawing takes place at 10:59 p.m. on Wednesday and Saturday and may be watched live online at: http://www.powerball.com. Powerball tickets are sold in 44 states, Washington D.C., U.S. Virgin Islands, and Puerto Rico.
Plymouth Voice.