Plymouth teacher honored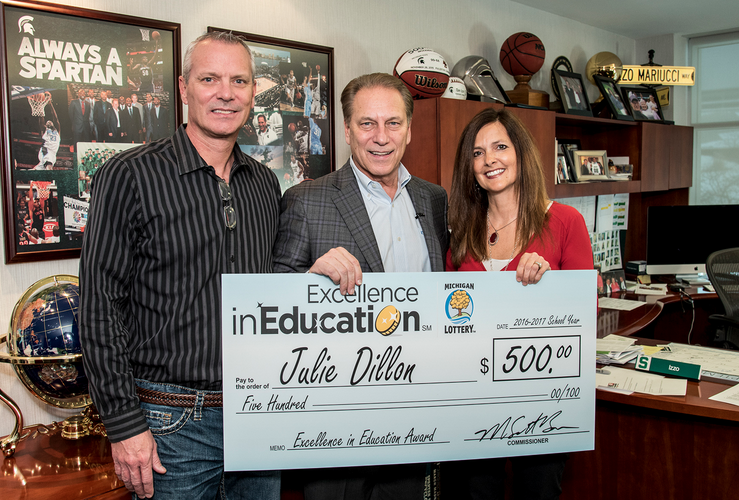 Julie Dillon poses for a photo with her husband, Jim, after accepting her Excellence in Education award from Michigan State University basketball coach Tom Izzo.
Jan. 26, 2017  PLYMOUTH EAGLE.
Plymouth Michigan News
A Plymouth kindergarten teacher known for creating engaging, hands-on lessons to make learning fun for her students and for involving parents in their children's education has been honored with an Excellence in Education award from the Michigan Lottery. The award winner, Julie Dillon, teaches kindergarten at Isbister Elementary in Plymouth. The school is part of the Plymouth-Canton Community Schools District.
The Michigan Lottery established the Excellence in Education awards in 2014 to recognize outstanding public school educators across the state during the school year.
Winners of the weekly award receive a plaque, a $500 cash prize, and a $500 grant to their classroom, school or school district. One of the weekly winners will be selected as the Educator of the Year and will receive a $10,000 cash prize. Each winner also is featured in a news segment on the Lottery's media partner stations: WXYZ-TV in Detroit, FOX 17 in Grand Rapids, and FOX 47 in Lansing. For the Excellence in Education awards program, the Lottery has teamed up with Michigan State University basketball coach Tom Izzo, who recently presented Dillon with the award at the Breslin Center.
"My love of kids attracted me to a career in education. Their smiles melt my heart," Dillon said. "I am the youngest of nine children and since I can remember, I have wanted to be a teacher."
Dillon said her favorite part of being an educator is "building relationships with my students and their families and together seeing the progress each child makes."
Two parents nominated Dillon for the Excellence in Education award with one saying: "Julie Dillon personifies excellence, dedication, and commitment in an educator."
"You can see how her positive energy, enthusiasm, and efforts help students make connections, both academically and socially. At the first sign that a student is struggling, she identifies how to work with that student to encourage their suc- cess. She genuinely wants each of her kindergarteners to flourish!
"She's also in constant communication with parents, making kindergarten an exciting family experience. Mrs. Dillon always goes above and beyond to make sure her students (and their parents) have a successful and memorable kindergarten year."
The other nomination noted that Dillon "makes learning come alive in her classroom on a daily basis with fun, engaging and hands-on activities. She spends time outside of the classroom with her students too, meeting them for hot cocoa at the Plymouth Ice Festival or for a pizza lunch to celebrate great reading through Book-It!
"She also attends school functions such as movie night, skate night, and liter- acy night. She spends countless hours preparing learning activities for her stu- dents. She has fantastic communication with parents through texts, emails, and newsletters and provides many ways we can support our children's education at home."
Dillon has earned degrees from Michigan State University, Eastern Michigan University, and Marygrove College. She has been an educator for 22 years, all with the Plymouth-Canton Community Schools. Outstanding public school educators may be nominated for an Excellence in Education award at http://bit.ly/ExcellenceInEducation or through the websites of the Lottery's media partner stations.
Plymouth Voice.