Antennas removed from tower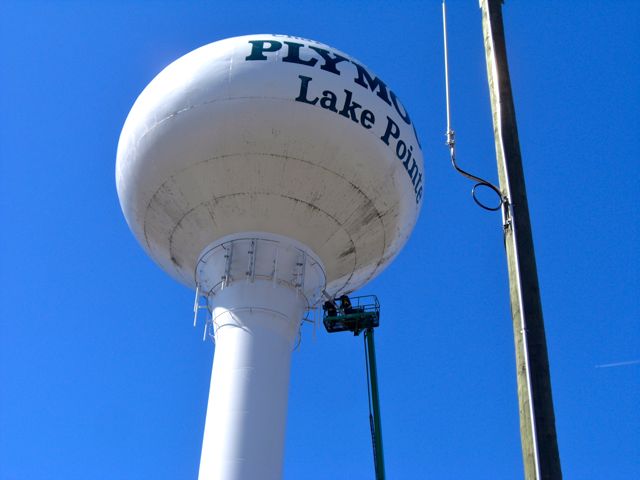 Apr. 15, 2013  PLYMOUTH EAGLE.
Contract workers from Texas used a rented aerial boom to remove antenna panels from the Lake Pointe water tower in Plymouth Township last week. Nextel had been leasing the space for the antennas from the township for about $1,900 monthly.
Following the Federal Communications Commission (FCC) approval of a $36 million merger between Nextel and Sprint, more than 30,000 outdated Nextel cell sites are being removed from installations like the one in Plymouth Township.
Sprint contracted Advanced Texas Electrical Contracting Services of Houston to recover nine, 8-foot, panels that have been decommissioned and are incompatible with the new Sprint network technology. The panels surrounded the base of the water tower at a height of 130 feet.
Many of the antennas were used for Nextel's push-to-talk cellular phones, which have grown unpopular in recent years. Sprint used the freed-up spectrum from its 2G Nextel network to launch a newer 4G- LTE network last year.
Elimination of the Nextel brand is part of the Network Vision transition program since it took over Nextel in 2008. Sprint says 5,000 duplicate sites will be terminated and the landowners were notified that cell towers and cell tower ground leases are no longer needed.
In 2006 the Plymouth Township Board of Trustees was approached by T-Mobile and Metro PCS who wanted a lease to install cell towers in the township park and golf course. The board members decided against the proposal citing aesthetics.
At the time, Treasurer Ron Edwards said the township was receiving revenue from the cell tower at the DPW site in the amount of $16,000 per year and the Lake Pointe water tower lease was, "over $1,900 per month."
It is not known whether Sprint-Nextel has terminated the township lease or there have been offers from other carriers to utilize the Lake Pointe site.
A spokesperson for Advanced Texas Electrical said all Nextel towers in Michigan were coming down, which would make them available to other carriers.
|News Plymouth Michigan