An Amazon story worth reading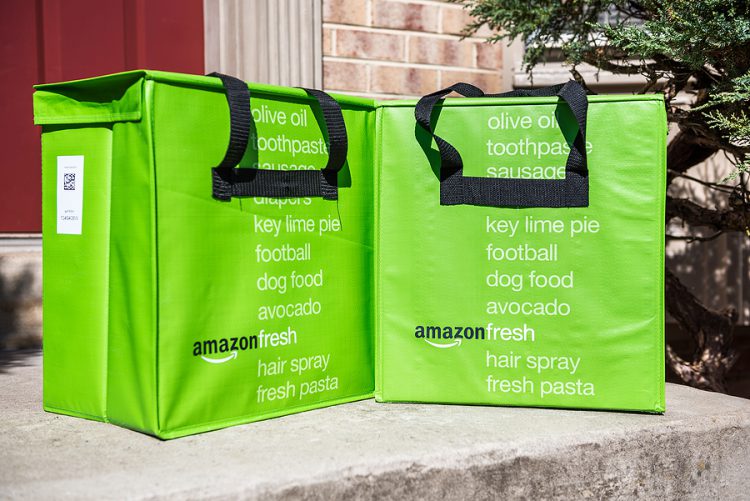 Nov. 14, 2023  PLYMOUTH VOICE.
Plymouth Michigan News
Amazon mastered the internet. Grocery stores are a different story
By: Caroline O'Donovan
Lawsuits and layoffs now litter Amazon's years-long path to conquering the brick-and-mortar grocery store
Daniel Kaye was heartbroken when he learned in 2021 that his neighborhood Barnes & Noble was being booted from a local shopping plaza. "Whoever owned the shopping center had a plan, and it didn't involve them," said Kaye, a children's book author.
That plan turned out to be an Amazon Fresh. The high-tech grocery store with mid-range prices was supposed to help "revamp" the Willow Grove shopping plaza in suburban Philadelphia into a hip hub for savvy commuters, according to its website.
But two years later, the site is still vacant. And Willow Grove is suing for breach of contract — one of four lawsuits targeting the faltering Amazon Fresh experiment.
With its cashier-less checkout and computerized shopping carts, Amazon Fresh was supposed to revolutionize grocery shopping when it launched at the height of the coronavirus pandemic. But the high-tech stores have proved more frustrating than fun for some customers, current and former employees say. In February, as the company cut costs and laid off workers amid economic head winds, Amazon pressed pause on its grocery expansion, halting projects in more than a dozen locations and leaving prospective landlords and locals in the lurch.
Now the company is making big changes — cutting shifts, killing hundreds of jobs, even supplementing the store's signature high-tech systems with traditional checkout options. While Amazon CEO Andy Jassy has said that grocery remains "a big growth opportunity," the dilemma could be existential: One former employee — speaking on condition of anonymity to protect his career — said staff were told this year could be "make or break" for Amazon Fresh.
It would not be the first time the tech giant has fumbled the transition from the internet — where no company is better at selling stuff — to the physical world. Amazon made its first foray into brick-and-mortar retail with Amazon Books in 2015. But all of its Amazon Books stores have since closed, along with its 4-Star gift and gadget stores and on-demand health care offering Amazon Care. Its Amazon Go convenience stores, meanwhile, have significantly scaled back, and its Amazon Style clothing stores haven't expanded since launching last year.
Now the detour on Amazon Fresh has spawned a quartet of lease lawsuits seeking damages ranging from $50,000 to $14 million. The complaints have yet to play out in court. But Amazon's legal troubles demonstrate how the fast action and rapid reversals that served the e-commerce giant so well on the web may not translate to the physical world.
On Wednesday, Bloomberg reported Amazon is overhauling its grocery business, including upgrading some of its warehouses and making delivery available to non-Prime customers. Amazon Fresh is also getting a makeover, de-emphasizing some of the high-tech technology and introducing traditional grocery store touches like self-checkout, more items and coffee and doughnuts near the front of the store.
Amazon said it doesn't comment on ongoing litigation. Regarding the Fresh store pause, spokesperson Jessica Martin said in an emailed statement: "Like any retailer, we periodically assess our portfolio of stores and make optimization decisions that can lead to closing existing locations or choosing not to pursue building a planned location."
The company already has "a large online grocery business and millions of products available for fast delivery, and the next step is to continue building out our physical presence, and we're well on our way — our physical stores sales are up year-over-year," Martin said. Physical store sales in the first quarter of 2023 rose 7 percent year-over-year to $4.9 billion.
"We know having a successful physical grocery business beyond Whole Foods Market, which is doing very well, is going to require significant investment, innovation, and persistence," she continued. "We remain committed because we believe when we find the right mix of offerings for customers we'll be able to make their lives even easier."
Amazon said it's always gathering data and learning from its experiments, both online and off, and will continue to offer high-tech and traditional checkout options in all of its physical store locations.
Amazon founder Jeff Bezos owns The Washington Post. Interim CEO Patty Stonesifer sits on Amazon's board.
As Amazon casts about for a winning format, employees say the signs of trouble are stacking up. Last week, hundreds of Amazon Fresh employees across the country found out via conference call that the company was eliminating their jobs. Two days later, a staffer in Orange County, Calif., said he showed up to find expired food in one of the store's grab-and-go refrigerators.
Normally, it was the job of a "zone lead" to find and remove expired products from the store's shelves. But Amazon laid off all the zone leads, leaving the remaining associates and store managers struggling to keep up.
"We are asked to cover multiple stations as they don't schedule properly and don't have enough staff," said the employee, speaking on the condition of anonymity to protect his job. "That can lead to people not taking proper safety measures."
Amazon has been trying to make grocery work for a long time. It launched Fresh as a delivery brand in 2007, but struggled to gain traction as the company figured out the supply chain for perishable goods. A decade later, it bought Whole Foods, hoping to learn the secrets of operating a brick-and-mortar grocery business.
Amazon Fresh's brick and mortar stores were supposed to compete with midrange grocery giants such as Kroger and Albertsons. The company hoped to attract customers by making Fresh part of its popular Prime membership program, offering a 10 percent in-store discount and special Prime Day sales. In the first two years after its 2020 launch, Amazon opened 44 Fresh locations in the United States. In some places, locals waited in pre-dawn lines in the rain to check out the stores.
But amid rapid expansion, the stores lacked leadership and operations were disorganized, current and former employees said. In 2022, executives from Tesco and Whole Foods were brought in, which frustrated some employees further.
A laid-off Amazon Fresh employee in Illinois said she had more than a dozen incomplete training modules in her employee app on everything from store security to food safety, but she was told to keep working anyway. She cited risks including too many cans stacked in overhead bins and pallets of dairy products left to sit on the floor without refrigeration.
"There is literally no staff available to adequately perform a training'" said the former employee, who spoke on the condition of anonymity because she's still on Amazon's payroll. "You couldn't possibly manage all these people — there was no oversight."
Staffing has been an issue at multiple stores, five current and former employees who spoke on the condition of anonymity to protect their careers said. Since last week's layoffs, the situation has gotten worse, they said, with some low-level associates being asked to train managers.
Amazon said eliminating jobs is "always a last resort" and that the company will help impacted employees find new roles or pay them severance.
The company said safety is a priority, that it will continue to define routines and evolve staffing policies, and that staff are given time to complete trainings by specific deadlines under management oversight. Expiration dates are tracked virtually and double-checked by hand daily, temperatures of refrigerated products are checked throughout the day, and managers are required to check that cans and other food are stored safely, the company said. It is investigating the claims made by employees.
"We take the well being and safety of our employees and customers very seriously and we have a strong, industry-leading track record of safety in our stores," Martin said in a statement.
Some Amazon Fresh stores use a network of cameras to track shoppers, allowing them to load up a cart and leave without stopping at a cash register — a system meant to replicate the speed and convenience Amazon is famous for online. The stores also have computerized shopping carts called "Dash Carts" that track spending, and kiosks where customers can ask questions of robot voice assistant Alexa.
But the technology poses problems, too: For example, it sometimes takes hours for receipts to show up in customers' Amazon accounts, at which point it's too late to double-check a price.
"It's a disaster from a store operations perspective," said the former employee based in Illinois.
Amazon Fresh's strengths were supposed to be "the innovation of the technology, the convenience of faster checkout options, unique selection from Amazon's private label brands, and lower prices," said a former corporate Amazon employee in Seattle who worked on Fresh, speaking on the condition of anonymity to protect his career.
"For consumers," he said, "that's a lot of things that never coalesced into one cohesive story."
Amazon said it offers a variety of checkout options in its stores, and will continue to invest in technology and expand its brick-and-mortar business.
Amazon pointed to Jassy's comments during a recent earnings call, in which he said Amazon's grocery delivery business is strong, and he is interested in building a "hybrid" between physical stores and online shopping, where online shoppers can pick up orders in person, and in-store shoppers can place online orders from kiosks in stores.
As Jassy tinkers with the Amazon Fresh strategy, the pause on new stores is causing problems for landlords counting on Amazon not only for rent payments, but also for foot traffic.
In suburban Philadelphia, Willow Grove shopping mall owner Federal Realty emailed Amazon in March 2022, complaining that the company had delayed the opening of its store for months, according to court filings. The landlord demanded that Amazon start paying rent by Dec. 15, noting that Barnes & Noble's lease had been abruptly terminated because Amazon was in a rush to get started.
"We are not trying to be 'piggish' here," wrote Federal Realty senior vice president Lance Billingsley in the email included in court filings. "Our position is simply that if Amazon had continued to move forward as originally represented to the Landlord on many, many occasions, store opening would have occurred in Fall 2022."
The parties came to an agreement, but when the rent came due in January, Amazon never paid — and in the end, the store never opened at all. In court filings, the landlord alleged that Amazon stopped work on the building without completing elements "necessary to maintain the structural integrity and safety of the building" during harsh winter weather.
Federal filed suit in March, saying Amazon was reneging on its lease, not because of incomplete work as it claimed, but "as part of its nationwide strategy" to halt expansion.
In a May court filing, Amazon denied the allegations and blamed the landlord for failing to complete the work according to the timeline stipulated in the lease. Federal Realty declined to comment on the case, but it said it's still looking for a tenant to replace Amazon.
Kaye, the children's book author, says some residents are holding out hope that Barnes & Noble might return. For now, the empty storefront is "kind of like this weird albatross," he said. "It's holding the shopping center hostage a little bit."
In many places, landlords who sign lease agreements with Amazon commit to making expensive upgrades to their properties. The owner of the Landing, a high-end shopping plaza about half an hour's drive from Seattle, said in court documents that it spent more than $2.1 million improving the 40,000-square-foot property Amazon Fresh was supposed to occupy, installing elevators, skylights and parking for electric vehicles.
But Amazon is now refusing to pay rent, the landlord says, and claiming that issues with its permits will prevent it from opening a store. In court filings, the landlord said Amazon is clearly making excuses for the fact that its business plans shifted while the building was under construction.
The landlord, CPT The Landing, is asking for a minimum $14 million in damages, according to court filings. It did not respond to a request for comment.
Amazon denied the allegations in a court filing, saying the landlord had "failed to satisfy conditions required for the enforcement of the Lease."
The story is similar at the Hudson Mall in Jersey City, where landlord Urban Edge claims in a lawsuit that it spent millions of dollars improving its property to fit Amazon's particular needs. "Amazon must be held to its bargain," says the suit, which is asking for damages of at least $10 million.
Urban Edge did not respond to a request for comment, and Amazon declined to comment on the case.
No lawsuit has been filed in Coon Rapids, Minn., a northern suburb of Minneapolis where Amazon canceled plans to open an Amazon Fresh that had been set to open in a building J.C. Penney vacated in 2020. City council member Pat Carlson said he is worried about finding a replacement, given that many people these days prefer to shop online.
"It's so hard for brick-and-mortar businesses right now," Carlson said. He added: "Ironically, that's probably due to Amazon."
This article was published in the Washington Post, Aug. 2, 2023.
###
Amazon is one of the most affordable places to shop online. Offering free shipping on most products, its prices are very often lower than those of its competitors because of their automated and highly efficient warehouses.
Low prices, convenience and free shipping are the key elements that steer consumers to shop online at the trillion-dollar company that started as a bookseller. Amazon is the world's most powerful economic and cultural force. Amazon was worth over $1.105 trillion as of 2022.   America has a love affair with Amazon.
Plymouth Voice.