'Just Walk-Out' technology coming soon to township residents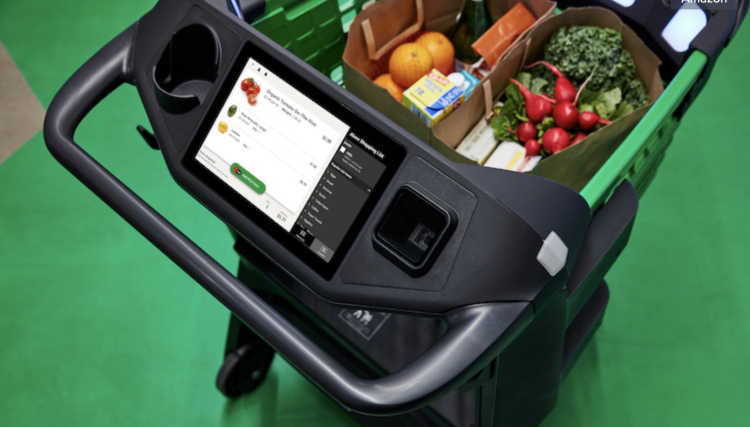 Jan. 4, 2023  PLYMOUTH EAGLE.
Plymouth Michigan News
Shopping for groceries will be a futuristic experience at the planned Amazon Fresh grocery store in Plymouth Township.
Plymouth Township Supervisor Kurt Heise confirmed that the new retail store under construction at the corner of Ann Arbor and Haggerty roads will be an Amazon Fresh market. While the new technology may not appeal to everyone, the 40 Amazon Fresh locations in the country are flourishing. To shop at Amazon Fresh, patrons will need the Amazon app on a phone. Those seeking traditional grocery shipping can use a cart and check out with a cashier using cash or credit. For those seeking a more futuristic approach, the store provides Dash Carts and shoppers use the QR code on the Amazon app. Sensors track items placed in or removed from the cart which also has a built-in scale and screen so shoppers can review purchases. When shopping is complete, patrons simply exit through the Amazon Dash Cart Lane and the card linked to shopper's Amazon accounts charged. Receipts are emailed to customers.
Even more independent shopping is provided with the Just Walk Out technology, the main objective of Amazon Fresh stores for seamless shopping. Shoppers enter the store by scanning a QR code on the Amazon App using their phone, connected to an Amazon account or credit card which allows shoppers to skip the checkout line completely.
According to the Amazon Fresh website, the stores offer sales, order ahead for pickup service and other items in addition to groceries.
Another Amazon Fresh is reportedly opening in Dearborn at the same time as the Plymouth Township location is operational. There are several other locations planned in Michigan, according to business reports.
Heise said that he and other township officials approved the plans for the new market which is located near the new $90 mil- lion Henry Ford Hospital facility on Ann Arbor Road near Haggerty.
"We are hoping that Amazon Fresh is going to tap into this professional and affluent clientele that are going to be working and living in the Ann Arbor Road and Haggerty corridor," Heise said.
The construction is under way next to the LA Fitness which anchors the shopping area.
Plymouth Voice.