$21 million development breaks ground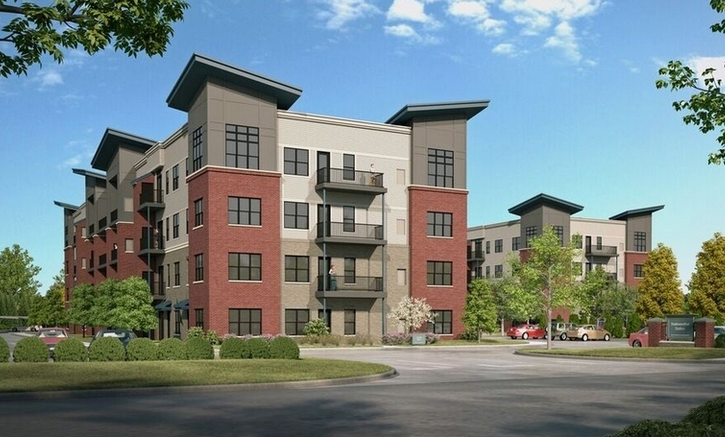 Starkweather Lofts will be located on the north side of Plymouth Road east of North Holbrook Street. Concept Drawing
Aug. 31, 2015  PLYMOUTH EAGLE.
Plymouth Michigan News
Demolition of a long vacant office building on Plymouth Road began last Wednesday, clearing the way for construction of a 93-unit luxury apartment development to be called Starkweather Lofts in Plymouth.
The vacant 20,000-square-foot Columbian Financial Group office building at 333 Plymouth Road is being leveled and the nearly 6-acre site prepared for construction of the first multi-family complex to be built in Plymouth in a decade.
Plans call for 40 one-bedroom loft apartments ranging from 703 to 850 square feet and 53 two-bedroom units ranging from 1,045 to 1,309 square feet. Rents are expected to range from $1,500 per month to $2,800 per month.
Starkweather Lofts — a partnership between DevMar Development LLC, Burton- Katzman LLC, and F5 Investments — is a $21.1 million loft apartment development that targets young professionals, empty-nesters and young couples by offering high quality new construction with high-end amenities such as 10-foot ceilings, granite countertops, stainless steel appliances, in-unit washers and dryers, balconies or patios, a community lounge, community park and pavilion with fire-pits and grilling stations, the developer said.
The recyclable materials from the site such as metal and concrete won't go to landfills, but to a recycling plant, a spokesperson said.
Located on the north side of Plymouth Road east of North Holbrook Street, the former office building had been used by the fire department for training exercises during the winter. The new the complex will consist of two four-story apartment buildings and green space is an integral part of the development which calls for preservation of many large existing trees, planting new trees and construction of walking paths that link Old Village through Caster Park, explained Mark DeMaria, principal for DevMar Development.
"Starkweather Lofts offer just the right combination of elements-solid urban loft design, upscale amenities, near-by parks and trails and a viable downtown with great restaurants and shops all within walking distance," said DeMaria.
"Demand for luxury apartment living is high right now in Plymouth and around the country," said DeMaria. "Young professionals and empty-nesters are looking for alternatives to the older apartment structures in Plymouth. They want new construction with high-end features," he said.
DevMar Development was founded by Mark DeMaria in 2012. DeMaria, chosen by Crain's Detroit Business as one of its 40 Under 40, has 18 years experience in development and construction. His work has earned numerous awards, including two Excellence in Design "M Awards" from the Masonry Institute of Michigan for the residential/multi-family projects he developed in Royal Oak and Ann Arbor.
Plymouth Voice.