$200 million Northville Downs project dead after residents' pushback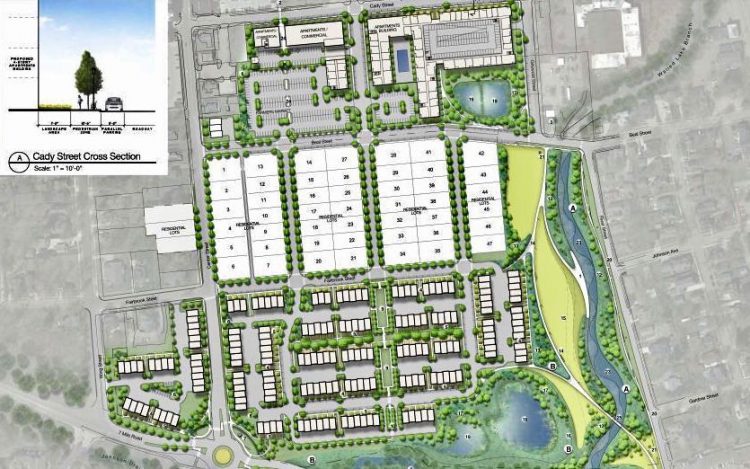 Sep. 17, 2019  PLYMOUTH EAGLE.
Plymouth Michigan News
Concerns expressed by local residents were apparently a factor in the recent withdrawal of a plan to develop 48-acre Northville Downs racetrack property into a commercial and residential feature of the city.
Hunter-Pasteur Homes has withdrawn its Planned Urban Development (PUD) application which would have developed the first 13-acre northern portion of the Northville Downs site into 300 apartments and 19,000 square feet of commercial property. The total cost of development of the land had been reported at $200 million.
That withdrawal allows Watermark Residential of Indianapolis to submit a plan for a mixed-use apartment-retail building on Cady Street. Hunter-Pasteur plans to sell the land on Cady to Watermark, according to city officials.
Under city ordinance, both projects – the Northville Downs PUD and the apartment building – could not be evaluated at the same time under two different applications. The racetrack PUD proposal had to be formally withdrawn before a separate site plan for the Watermark apartment project could be submitted, officials said. Hunter-Pasteur Homes had also planned a second phase of the project on the remaining roughly 35 southern acres, where the track is located, which would have included 50 single-family homes and 175 townhouses. The project would have brought 900 to 1,000 new residents into the community, officials said when the project was first proposed. Hunter-Pasteur Homes had garnered a hard-won PUD eligibility approval with conditions at the April 16 meeting of members of the Northville Planning Commission. When the conditions for approval of that plan were not satisfied by the developer, members of the planning commission refused approval of the preliminary site plan at their June meeting. The unapproved plan and application were returned to Hunter-Pasteur for changes.
According to a city spokesman, the size and scope of the project made it difficult for Hunter-Pasteur to meet all the conditions for site approval. Additionally, residents had expressed opposition to the project noting concerns about a range of items – including increased traffic, the density of the project and environmental issues.
READ MORE
ROUNDABOUT IN DOWNTOWN NORTHVILLE
Hunter-Pasteur representatives said they will not continue to pursue the PUD at this time, but that the company many do so in the future.
The Northville Downs property extends from Seven Mile Road midway up South Center, from Seven Mile and River Street to Griswold and Cady, with several parcels on the west side of South Center.
Members of the Historic District Commission were asked for their input into the conceptual plans of the proposed Watermark apartment/retail building at the Jan. 16 meeting. Several renditions of the building have been made since then and it is not known when the plan will be officially submitted to the city for approval.
Plymouth Voice.