Smoke alarm wakes sleeping resident during kitchen fire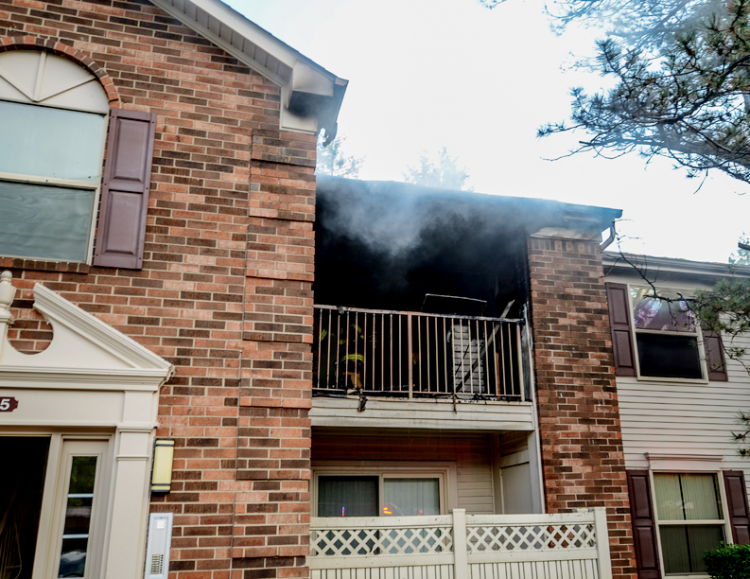 Sep. 16, 2019  PLYMOUTH VOICE.
Plymouth Michigan News
Don Howard
Staff Writer
A Northville resident is thankful that his smoke alarm very likely saved his life after his apartment kitchen caught fire last week.
Fire crews from five communities were dispatched to the Swan Harbour Apartments at 19255 Silver Springs Drive after the first alarm was called in August 29 at 6:28 p.m.
Reports say first on the scene firefighters from Northville Township Fire Department arrived within 5 minutes to find heavy flames blowing out of the second story apartment door wall. Mutual aid was requested from Livonia, Plymouth Township, Northville City and Novi fire departments.
According to Township Fire Chief Brent Siegel, the fire started in the kitchen of the 8-unit apartment complex. The resident reported he had been cooking before he fell asleep, awoke to his smoke alarm and saw the kitchen was on fire.  Siegel said the smoke alarm activated the building fire alarm. That resident and all apartment building occupants were able to safely exit.
"We had about 25 firefighters on scene and the fire was contained to the apartment of origin and was under control in 20 minutes."
Siegel said fire investigators determined the incident to be an accidental cooking fire.
"There is no doubt that the working smoke alarms saved multiple lives during this fire.  Smoke alarms save lives!" Siegel exclaimed.
All surrounding units sustained smoke and water damage causing residents to vacate until repairs are complete.
Plymouth Voice.
Photo by: Matt Zmuda